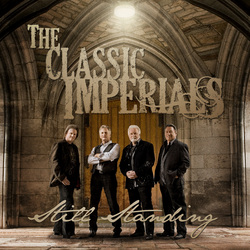 Nashville, TN (PRWEB) September 9, 2010
The Classic Imperials officially announced today (September 9) that they have reunited for their first studio album of all new material in over a decade. The new album, 'Still Standing,' will be released October 19th by Hall of Fame Music Group and Infinity Music Distribution (a division of Central South Distribution).
As The Imperials, the legendary vocal group has stayed in the forefront of Christian music for the last 5 decades, winning 4 GRAMMY® Awards and 17 Dove Awards, including the inaugural Male Group of the Year award in 1969 and the first ever Artist of the Year award in 1981. In 1998, they were inducted into the Gospel Music Hall of Fame.
But The Imperials are well known to music lovers far outside the spectrum of just Christian and Gospel music, thanks in part to the years they spent backing Elvis Presley on tour and in Las Vegas (as seen in the 1970 documentary film 'Elvis: That's the Way It Is').
These days, the group is comprised of a rock solid line-up of founding member Armond Morales (bass), 29-year veteran Dave Will (baritone/lead), popular alumni Paul Smith (tenor/lead) and new member Rick Evans (tenor/lead), who has traveled extensively with Billy Graham, Harvest Crusades, Promise Keepers and more.
Unlike most reunion records and tours, The Classic Imperials aren't just cashing in on the oldies, but are genuinely determined to uplift listeners from all walks of life while remaining a vital vocal and musical force. "We're not out here doing this because we can't make a living doing something else or because we can't pay our bills," assures Morales. "We have four individual voices that people have enjoyed over the years, but now we have a new dynamic together that we want people to hear and are confident that they're going to enjoy it. God's given so much to us and we want to give it back to our audience."
For 'Still Standing,' the group enlisted production help from country sensation Michael Peterson and Nashville heavyweight Ric Web. "This batch of songs is real and relevant, which is meant to appeal to those who've walked with us before, plus newer and younger fans," says Smith. "'Still Standing' is more song driven than sound driven."
"Our motivation was to do an album that wasn't necessarily geared to the Christian market even though we're a gospel group," reveals Will. "These songs could definitely be played on pop or country radio and reach outside the church. A song like 'Something's Wrong with the World' really speaks to what's going on in the world today, though we're reminding people to 'hold onto God's unchanging hand.'"
"The Imperials have always been a big melting pot when it comes to their audiences," notes Evans, who was a lifelong friend and colleague before joining the group. "We all have different subcultures and denominations from the church, but because of our history and the secular acclaim the group had and has, we also have an additional group of people that might not normally listen to Christian music. We're four guys who are living for the Lord and who want to serve Him, but we also want to meet people wherever they're at and let the music do the talking."
"People have referred to the group as pioneers in the sense that the music's pushed in directions that many others didn't, and in that regard, the group's been successful for all these years," observes Smith. "Though that diligence continues, we're not as much concerned with our role in the history of Christian music or contemporary music in general. We were more concerned about putting this project together for the impact it would have on people. Past or present, changing lives is still what The Classic Imperials are all about."
For more information, visit the official website at http://www.theclassicimperials.com or http://www.theimperials.com.
MEDIA CONTACT:
Brian Mayes
Nashville Publicity Group
brian(at)nashvillepublicity(dot)com
615-771-2040
# # #