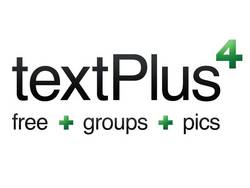 textPlus 4 Pics Edition makes it possible for the first time to convey a real sense of presence and personal connection over text
Marina del Rey, CA (PRWEB) September 9, 2010
Texting has become a sight to behold. After reaching 8.5 million downloads for its popular free group texting application textPlus, GOGII unveils today textPlus 4 Pics Edition, a visually rich social mobile application that uses the power of pictures to take texting to a fun, social level. Free to download and use, textPlus 4 Pics Edition is available on iPhone, iPod touch and iPad.
textPlus 4's unique picture capabilities turn iDevice text exchanges into powerful photographic conversations. Here's how:

Picture Communities: It's show and tell for texting - a group of users texting in one Community chatroom can easily send and receive pictures to illustrate their live discussions.
"Face Text:" Eye-roll, giggle, growl or grimace. Texters get emotive by using iPhone 4 and iPod touch's front-facing camera to snap and post their own real-time facial expressions; make a face, click the button, 3, 2, 1 - it posts instantly into the conversation flow. It's like texting from a photo booth.
Real picture messaging: The #1 most-requested feature from textPlus users, picture messaging lets users send, receive and save photos in one-to-one, private, community and even app-to-SMS conversations - all for free.
textPlus 4 has big implications for socializing - especially when it comes to the app's Picture Communities, which allow users to search, create, join and swap pictures in topical chatrooms about the topics they care about most. For the first time ever on mobile phones, people have a social forum that combines real-time picture-sharing with the ability to meet up with new friends and old, and discover live topical Community conversations - all over text message. Communities can be public (eg, Justin Bieber fans, dog lovers or "Jersey Shore" devotees) or private (eg, the local cheerleading squad or office sales team).
"textPlus 4 turns texting into a visually rich, live 'hang out' that's uniquely and seamlessly layered on top of free text messaging," said Scott Lahman, co-founder and CEO of GOGII, creator of textPlus 4. "While textPlus users have already created hundreds of thousands of Communities, we expect to see that number grow significantly given textPlus 4's dynamic features. The app taps into a rapidly growing demand for richer, more engaging social experiences on mobile phones - and marks a significant milestone in our effort to evolve text messaging into a social destination."
textPlus 4 also offers tools to personalize and enliven texting conversations. Consumers create popular text message "signatures," which they can personalize and update as often as they like. Users can choose from animal, sci-fi or just plain fun sound packs for their incoming message notifications, as well as dress-up their messages with colorful, emoji-style emoticons. What's more, the app offers integration with Facebook Connect to allow users to post their textPlus 4 experiences to their Facebook Wall.
"textPlus 4 Pics Edition makes it possible for the first time to convey a real sense of presence and personal connection over text," added Lahman. "Imagine you're at the Super Bowl, and you're texting live about the game in a public fan Community - with the new app, you can go beyond the banter to answer questions like 'where are you sitting' with a picture of yourself on the 50 yard line, or celebrate with a group of fellow fans by sending your cheering mug via Face Text, seconds after your team scores."
Since its launch in June 2009, textPlus is one of the most popular text messaging applications available, with a network of 23 million people, and over 3.5 billion messages sent. Available on all iDevices and Android phones, it has been downloaded 8.5 million times.
Current textPlus users who download textPlus 4 can seamlessly transition their username, contacts, conversations and Communities with them to the new app. textPlus 4 Pics Edition can be downloaded here.
About textPlus and textPlus 4 Pics Edition
textPlus brings free, ad-supported real, group and Community texting to the iPad, iPhone, iPod touch and Android phones through both its mobile application and permanent short code, 60611. For iDevices, textPlus 4 Pics Edition adds Face Text and picture sharing technology to enhance social interaction and enjoyment in the app. Both apps are carrier and Mobile Marketing Association (MMA) compliant and enable seamless interaction between app users and their friends using regular text messaging (SMS).
About GOGII
GOGII (go-jee) is a mobile communications technology company and creator of the textPlus app. GOGII is a U.S.-based startup backed by venture capital firms Kleiner Perkins Caufield & Byers and Matrix Partners. GOGII was founded in 2007 by the three founders of JAMDAT Mobile, the leading mobile entertainment publisher that was acquired by Electronic Arts in 2006.
For more information, please visit http://www.textPlus.com.
###