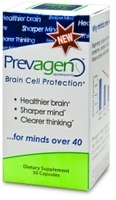 Cognitive decline in aging can occur in anyone - regardless of income, education, or geography and so it is important for us to reach consumers wherever they may shop. The customer who supports their local independent health food store may be completely different from the shopper who wants corner store convenience of a Rite Aid pharmacy
Madison, WI (Vocus) September 9, 2010
September marks the 3rd year anniversary date of the launch of the innovative brain health supplement Prevagen®. Manufacturer Quincy Bioscience is using the occasion to announce Prevagen has reached a significant milestone – Prevagen is now available in over 6,000 stores nationwide including both independent health food stores and Rite Aid pharmacies across the country.
"The growth in distribution reflects the growing number of customers who are concerned about their memory and is a measure of the effectiveness of the product. As a company we are very excited about how well received Prevagen has been, clearly consumers are very pleased with Prevagen and its results," says Quincy Bioscience co-founder Mark Underwood.
"Cognitive decline in aging can occur in anyone - regardless of income, education, or geography and so it is important for us to reach consumers wherever they may shop. The customer who supports their local independent health food store may be completely different from the shopper who wants corner store convenience of a Rite Aid pharmacy," says Tom Dvorak, Vice President of Sales and Marketing for Quincy Bioscience.
Good Timing for New Technology
The baby boomer generation includes 78 million Americans who are living longer than any preceding generation and arguably leading fuller lives. It follows that demand for products which can preserve and promote health is growing. A recent report by Packaged Facts, a publisher of consumer market research, estimates U.S. retail sales of nutritional supplements exceeded $9 billion in 2009, an increase of 8% over 2008. This growth is in contrast to many other industries whose growth was negative over the same time period.
Prevagen, a brain health supplement, contains a first-in-class active ingredient called apoaequorin which has shown to protect brain cells and improve cognition in adults. Apoaequorin, which comes from a species of jellyfish called Aequorea victoria, is a calcium-binding protein. In humans calcium-binding proteins are utilized to maintain calcium balance which is critical to proper cell function. In the aging process calcium-binding proteins diminish, leaving neurons susceptible to calcium toxicity.
Apoaequorin has proven to be neuroprotective in pre-clinical studies performed at the University of Wisconsin-Milwaukee and has shown to be effective at improving aspects of cognition such as spatial working memory and executive function in human studies conducted by Quincy Bioscience.
Business Success in Difficult Times
The Small Business Administration says 66% of small businesses fail in four years. Quincy Bioscience, now in its 6th year, has grown from 3 employees in 2004 to 45 employees currently and the company plans to keep up its pace of hiring in the near future. Moving from an office space of 5,500 square feet to a building with 25,000 square feet has provided the room for future employees.
Additionally, the Quincy Animal Health division was launched in 2010 and is developing a brain health supplement using apoaequorin for the growing population of senior dogs and cats. Like the human market, pets have enjoyed better primary care and living longer lives but with longer lives come brain aging signs of cognitive decline. Increasingly veterinarians are identifying the symptoms and diagnosing Cognitive Dysfunction Syndrome (CDS). Data of the product's effectiveness in aged dogs are very positive. Product launch is anticipated in the 4th quarter this year.
About Quincy Bioscience
Quincy Bioscience is a biotechnology company based in Madison, Wisconsin. Quincy Bioscience is focused on the discovery, development and commercialization of novel compounds to fight the aging process. The company's products focus on restoring calcium balance related to neurodegenerative disorders and other destructive age-related mechanisms.
###