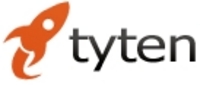 "For Tyten, partnering with Newsy was a natural collaboration," says Ray Troy, founder of Tyten.
Columbia, MO (PRWEB) September 10, 2010
Sparked by the rising popularity of mobile computing devices, Raymond "Ray" Troy has launched a new business that aims to assist a variety of clients in successfully utilizing the new technology. His decision to try his hand at a new venture was based off the success of his retail website, NineAPair.com. Both businesses offer customers top-notch service, and products that are unmatched within their respective markets.
Tyten, Inc. focuses on developing applications and hardware for mobile computing devices. Unlike other companies, Tyten works with clients to specifically tailor an app or device to their exact needs. Whether it's a film festival or news outlet, Tyten will work one-on-one with their client to design a useful resource. Event Planners will really enjoy customizing the Tyten Events framework app to their conference, festival, concert, or trade-shows.
Newsy, a web-based video news site, utilized Tyten's expertise to design their iPad application. At the time of this release, the Newsy app Tyten designed for the iPad was ranked at #10 for free news apps in the iPad store.
"For Tyten, partnering with Newsy was a natural collaboration," Troy says. "As a website offering multi-perspective video news stories, their format translated well into a visually stimulating and informative iPad app."
This business partnership is just one that Troy has recently formed. His sunglasses retailer, NineAPair.com, has started selling the microfiber cleaning cloths Glasses Gloves. "They are the best glasses cleaner on the market, that is why we sell them," says Troy. The new products are in addition to the variety of cheap sunglasses sold on the website.
For Troy, the time seemed right to launch another business. "NineAPair is growing," he says. "We're approaching our 5,000th sale in just under three years. I was ready for a new challenge and Tyten has given me that."
Both Tyten, Inc. and NineAPair.com are based out of Columbia, Missouri. Ray Troy is currently a Doctoral Nuclear Engineering student at the University of Missouri.
For more information about Tyten, Inc. or NineAPair.com, email Ray Troy at raytroy (at) nineapair (dot) com or give him a call at 887.927.2476.
###