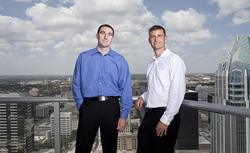 Microventures.com gives individual investors early access to seed-stage opportunities and start-ups access to capital in a new and innovative way.
Austin, TX (PRWEB) September 9, 2010
Good things come in small packages. Not a theory often applied to venture capital, or funding small business ideas.
Enter Bill Clark, a capital-and-idea matchmaker of sorts, who breaks the venture capital mold by connecting well-vetted entrepreneurial concepts online with investors looking for the next great idea. His company, Microventures, facilitates the matchmaking process online through http://www.MicroVentures.com, making it easier for investors to connect with entrepreneurs, and for small businesses to access critical funding.
Based in Austin, TX, Microventures' unique capital model allows investor participation in the funding of startup opportunities not typically available outside a traditional venture capital structure. Inspired by other peer-to-peer platforms, Mr. Clark and partner Scott Rhode created MicroVentures to get capital to small businesses and early stage concepts, as well as to make to private opportunities and early access easier for individual investors, at significantly smaller investment amounts.
The MicroVentures team looks at prospective early stage companies using a variety of success criteria – such as suitable risk, likelihood of profitability, and other key due diligence factors. Businesses are then matched with investors for a venture capital hybrid of "peer-to-peer" lending. The company funds a wide range of industries, including technology, consumer products and services, healthcare, media and entertainment, and telecommunications. Investors can invest smaller amounts than typically expected in traditional venture capital situations, and still benefit from a due diligence process similar to that of other venture capital companies. Business investments initially total $50,000 to $250,000 per deal; individual investors can invest from $250 to a maximum of $5,000 on the platform and any amount offline by contacting MicroVentures.
Interested investors complete a questionnaire to determine if MicroVentures' private offering investments are suitable based on internal MicroVentures guidelines for investment. Once accepted, investors have the opportunity to evaluate and purchase the company's exclusive private offerings. There is no obligation to invest and no fee required.
Businesses interested in the MicroVentures funding platform complete an application, and submit a business plan and a $99 fee. MicroVentures reviews the plan, and the company is then notified if approved for a more detailed second phase review. Following the detailed review, suitable companies are listed on Microventures' investment / offering platform.
Matchmaker Clark hopes to connect 20 businesses with $3 Million in capital in its first year, with additional targets of $5 Million in the future.
For additional information on the company, please visit http://www.microventures.com.
###