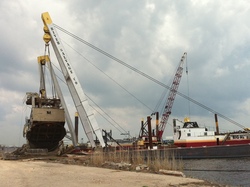 Daphne, AL (PRWEB) September 10, 2010
Inland Salvage Inc. (ISI) recently completed the wreck removal of the crane barge, YD-165, which had created a partial blockage of the Mobile River. A barge with a crane mounted on the deck capsized the night of July 15th on the west bank of the Mobile River approximately ½ mile south of the Mobile Cruise Terminal (Lat/Long - 30º 40.95' N, 88º 02.25' W). As the barge capsized, the crane detached from the barge and sank in the river with the cab of the crane within a few feet of the barge. The boom of the crane rolled toward the east and the river channel and was laying on the bottom of the river in an approximate northeast to southwest orientation in 35 feet of water.
Immediately upon being notified by the barges' owner that Inland Salvage Inc. had been appointed as the salvor, ISI resonded to the capsized crane barge with dive teams to conduct a dive survey and clearly mark salvage targets while mobilizing equipment and personnel, including the 500t D/B "Big Al" and 400t D/B "LMB" to the casualty site.
The wreck removal consisted of multiple evolutions:
1. Lift of the upper Gantry Section.
2. Lift of the crane cab and draw works.
3. Lift of the boom section
4. Guilliotine of the barge into several sections
The entire wreck removal consisted of heavy lifts totaling over 1500 tons
ISI completed all evolutions without incident
###