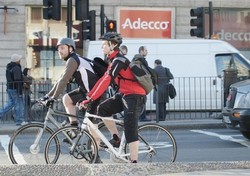 "While some say the tube strikes were an inconvenience it was amazing to see thousands of Londoners out on their bikes showing this truly is a cycling city and long gone are days of relying on the tube!" Neil Fitton, Evans Cycles
(PRWEB) September 11, 2010
Looks like the tube strikes are over, well until October at least. So, how did London and Londoners cope? Other alternatives were found without mass chaos ensuing, and most Londoners turned to cycling. Being an established cycling city this was business as usual for most commuters but it also opened the door for more people to join the cycling revolution.
To put this in perspective sales of hybrid bikes during the strike at Evans Cycles were up 10% on the previous week. This figure is even more amazing due to the previous week being a bank holiday sale weekend which is typically one of the busiest of the year. Further analysis revealed womens recreational and mens urban bike sales up 20% on the previous week showing the demand for cycling over the tube strikes.
It wasn't only Evans Cycles seeing this boom! The Mayors new Barclays cycle hire scheme and TFL were reporting a 60% increase in usage of their bikes compared to previous days. A glimpse at most docking stations showed very few bikes left for hire and most out on the roads. Cycle superhighways were also well used with the distinctive blue marking sometimes hard to see under the sea of bikes.
###