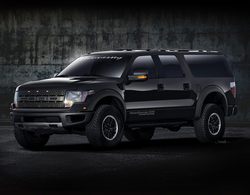 The VelociRaptor APV will showcase the highest level of protection, comfort and performance all in one vehicle
Sealy, TX (PRWEB) September 9, 2010
Having a vehicle that can safely and quickly get you out of harm's way is just as important as having armored protection. Introducing Hennessey Armored Performance Vehicles (APV) ™. Hennessey APV™ will apply the company's go-fast know-how to help improve the acceleration, braking and handling performance on late-model armored vehicles.
"Adding armor protection to SUV's such as Chevy Suburbans and Cadillac Escalades can easily increase vehicle weight from 6,000 lbs to over 10,000 lbs," said company founder and president, John Hennessey. "We are excited to be able to apply our 20 years of high-performance experience to the armor vehicle industry."
The company's 2012 Hennessey VelociRaptor APV, based on the new Ford Raptor Super Crew, will offer the ultimate combination of armor protection, vehicle performance, passenger comfort and safety. Powered by a supercharged 6.2L V8, the VelociRaptor APV will have the performance capability to drive away from, through or over obstacles both on the road as well as off-road.
"The VelociRaptor APV will showcase the highest level of protection, comfort and performance all in one vehicle," John states.
Hennessey Performance will also be offering a non-armored version of the VelociRaptor APV which will offer off-road enthusiasts the same level of utility and off-road capability that the Ford Raptor has become known for. Hennessey will offer the VelociRaptor SUV with the same supercharged 6.2L V8 producing 575 bhp. There will be seating options for six, seven or eight seats. A full line of electronic upgrades will also be available, including: Satellite TV, high-speed internet, entertainment systems and mobile office systems.
Hennessey APV™ offers a complete line of high-performance upgrade systems for the following the following armored vehicles, both for new vehicles as well as ones that are already in service:

Cadillac Escalade - 500 to 1000 hp
Chevrolet Suburban - 500 to 1000 hp
Chevrolet Truck - 500 to 1000 hp
Ford Raptor Truck - 450 to 800 hp
GMC Denali - 500 to 1000 hp
Jeep - Up to 800 hp
Land Rover - Up to 550 hp
Lexus LX570 - Up to 500 hp
Nissan Patrol - Up to 1000 hp
Range Rover - Up to 550 hp
Toyota Sequoia - Up to 650 hp
Toyota Land Cruiser - Up to 650 hp
About Hennessey Performance & Hennessey APV
Hennessey Performance (HPE) has been making fast cars go faster since 1991. It operates a 30,000 square foot workshop and showroom facility situated on 143 acres near Sealy, Texas (about 45 minutes west of Houston). The company also operates a showroom and installation facility located in Lake Forest, California. HPE offers a wide variety of dyno proven, track tested parts and upgrades for a variety of modern performance vehicles. Hennessey Performance is also the only tuner in North America that operates its own test track – Lonestar Motorsports Park.
###