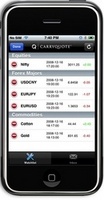 "As a highly successful serial entrepreneur and best-selling author, Lars's experience and insight will be an invaluable asset to our event" — Farley Duvall, CEO of White Bull
Zug, Switzerland and New York, NY (PRWEB) September 10, 2010
CarryQuote® A.G., a pioneer in integrated desktop and mobile financial information solutions, today announced that its director and co-founder Lars Tvede has been named a keynote speaker at White Bull 2010, Pathways to Exit , to be held on September 20-22 at the Dolce Stiges in Barcelona, Spain (http://whitebull.com/speakers). Mr. Tvede will be discussing global trends in demographics, wealth creation, IT, biotech, alternative energy, and lifestyles over the next four decades, the market impact these trends will have, and investment strategies to manage and exploit the upcoming changes in the global economy.
Mr. Tvede holds a Master´s degree in engineering, a Bachelor's degree in international commerce, and is a certified derivatives trader. After spending eleven years as trader, banker, and portfolio manager, Lars moved to the high-tech business area in the mid-1990s, where he co-founded and seed-funded a number of award-winning startup companies, including and most recently, CarryQuote.
"We are honored to have Lars Tvede as a keynote speaker at our inaugural summit," said Farley Duvall, CEO of White Bull. "Our program focus is on how early stage companies can best position themselves for success and how later stage firms should approach, and prepare to be approached by, those who can help them move on to the next level. As a highly successful serial entrepreneur and best-selling author, Lars's experience and insight will be an invaluable asset to our event."
The White Bull 2010, Pathways to Exit, is expected to attract leaders from the TMT (technology, media, and telecommunications) sector, including CEOs of the top performing private companies, corporate development executives from global firms, and the VCs, financiers, and services business that develop and support the Exit community. The event is open to all C-level and corporate development executives as well as the partners of financial services firms.
About CarryQuote:
CarryQuote® (http://www.carryquote.com) offers an award-winning market data technology that delivers real-time financial market information and analysis across asset classes and geographies to mobile phones and desktops at a fraction of the price of other market data providers. CarryQuote provides real-time data from over 100 global market data sources covering equities, bonds, foreign exchange, commodities, real estate and alternative investments. CarryQuote's real-time snapshot market views and personalized mobile alerts functionality ensures that fund managers, wealth managers, asset managers, brokers and individual investors are always on top of market changes. CarryQuote is compatible with all major Smartphone operating systems (Blackberry®, iPhone®, Symbian®, Android®, and Windows Mobile®), and desktop operating systems (Windows® and Macintosh®).
###