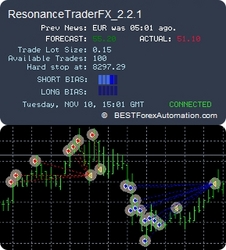 the automation has held up exceptionally well during the recent economic crisis, generating an almost unheard of 250% return during 2009
(PRWEB) September 13, 2010
BESTForexAutomation, the makers of customized software assisting foreign exchange traders, today officially released ResonanceTraderFX, a new fully automated foreign exchange trading program aimed at retail foreign exchange traders, for purchase by the general public.
The ResonanceTraderFX trading software combines a robust set of market pricing rules and proprietary trading algorithms, with real-time macro economic news event monitoring.
This product will be of tremendous value to new and longtime professional retail foreign exchange traders who continually devote large amounts of their time monitoring news events and ever present changes in market sentiment, pricing, and volatility. The software will also significantly lower the entry barrier into the world of retail foreign exchange (forex) for business professionals and small businesses alike. Any other persons or groups who may not have the time to allocate for learning trading systems and monitoring the market 24h a day can also benefit from this software.
The main difference between this and other similar products, is that ResonanceTraderFX has been designed from the ground up for long-term success. This quality was achieved through a multi-part approach. In addition to actively monitoring news events, further trading competence is gained during weekly neural network updates to the trading software. These neural network optimizations adapt the trading algorithms to the longer term market action. Furthermore, these adaptive algorithms will also monitor the account balance and close trades automatically, based on each trades profit, the overall position's profit, and a wide assortment of other varying factors.
"This is a cutting edge product, far superior to anything in the marketplace today." the lead programmer of ResonanceTraderFX said. "It far exceeded even our own expectations during the live test over the last year, and the automation has held up exceptionally well during the recent economic crisis, generating an almost unheard of 250% return for 2009. Due to this, we expect tremendous sales of this product."
More than 900,000 new business are started each year. "With ResonanceTraderFX, many business owners and entrepreneurs who want to can now easily add foreign exchange as an income stream." said the company's CEO. This becomes especially true, now that due to a recent agreement with Tadawul FX, BESTForexAutomation is able to offer the ResonanceTraderFX trading software for free - with the satisfaction of certain terms and conditions. As well, for those interested parties who only wish to try ResonanceTraderFX before fully committing, BESTForexAutomation has generated an undisclosed, limited number of discount coupons for the first 2 -weeks of use. Using the coupon code: BESTFOREXFREETRIAL on checkout of the Trial Version, will get you the first two weeks of trial access for free.
BESTForexAutomation is the maker of popular software used for copying trades from one account to another. The BFA Client/Server DLL packages are known for their simplicity of use and ease of setup for in-house programmers to send and receive trading signals from among the popular API enabled trading platforms, such as MetaTrader 4. The company's mission is to continually develop high quality and innovative foreign exchange tools and has already won numerous web awards for its ResonanceTraderFX application. The company's web site at http://www.bestforexautomation.com contains additional information.
###