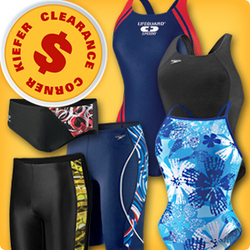 Swimmers don't care if a print is from last season. A great price on their favorite brand is motivating.
Zion, IL (Vocus) September 10, 2010
Adolph Kiefer and Associates, a leading provider of competitive swimwear, swim training gear, lifeguard apparel and water safety equipment, has made a strategic decision to focus on products that have the strongest demand from the company's core markets. Part of that process includes identifying products that do not perform well for Kiefer and selling them at clearance prices. In some cases these products are older suit prints that cannot compete alongside new releases. In other instances underperformers are desirable by niche markets that have not recognized Kiefer as a supplier. While a few of these items are being sold on Ebay, the main outlet for the clearance swim products is the "Clearance Corner" on kiefer.com.
Currently, the Kiefer Clearance Corner contains approximately 600 unique products. However, this number fluctuates daily as new products are added and others sell out. Marketing Director Robin Kiefer states, "In terms of product quantity and price discount, this is the largest clearance that Kiefer has ever initiated. The sheer number of clearance products is astonishing. Every week I meet with the product managers to determine which new products to clearance. The list just continues to grow." Robin Kiefer expects that the volume will reach its peak sometime this fall and encourages customers who want a great deal to check the e-store often.
Of the twelve clearance departments on kiefer.com, the most popular has been the swimwear clearance department. Stocked with name brands including Speedo, TYR, and Nike, the department offers quality swimwear at greatly reduced prices. According to Kelli Steenrod, Kiefer's web master and lifelong competitive swimmer, "Swimmers don't care if a print is from last season. A great price on their favorite brand is motivating." Steenrod explains that it is a "win-win" situation. "Our customers get a good deal. And, we are moving out the excess that might otherwise muddy our product offering and drain internal resources."
Product Manager Stacey Kiefer is expecting the discounted technical suits in the Clearance Corner to move quickly. She explains, "These clearance suits are a great option for price savvy shoppers that do not want to spend three-hundred dollars on a technical suit." Stacey Kiefer predicts that the discounted Speedo FS Pro technical suits will be most popular. "It is the best deal that we have ever offered on recently released, legal racing suits. People will take advantage of it." Stacey Kiefer also sees a market for the older, illegal technical suits that are selling for a fraction of the original price. "People will wear these suits for practice. Or, for open-water swimming. Or," she adds lightheartedly, "for Halloween!"
Kiefer's management has made a paramount decision to permanently close a few departments, including triathlete apparel, books and dvds, and nutritionals. Robin Kiefer explains that while the company has done a good job of offering quality products in those areas, people do not look to Kiefer for those items. According to Robin Kiefer, "Triathletes shop at tri shops. For books, people go to Amazon. And that is okay," he interjects with a smile, "as long as swimmers continue to shop Kiefer." Because Kiefer had been well stocked in triathlon merchandise, the [triathlon clearance department is quite large, offering an abundant selection of triathlete apparel. Triathletes will find great prices on wetsuits, compression wear, running shorts, cycling shorts, sport bras, and tanks.
While lifeguard apparel will remain part of the company's core product offering, Kiefer has moved the older or discontinued items to the clearance corner. The lifeguard clearance department contains mostly female guard suits, but also includes some guard shorts, tees and accessories. Casen Griffiths, Kiefer's Content Development Manager remarks, "The lifeguard clearance is a great resource for facilities that are budget conscious and willing to mix and match styles if need be."
Stocked with many different products, the Kiefer Clearance Corner also offers swimmers apparel, bags, footwear, swim goggles, fins, and caps. When developing this area of the website, Kelli Steenrod gave the Clearance Corner's organization serious consideration. "When we started this initiative, I was tasked with merchandising what appeared to be a mishmash of product. But, as the list grew, I was able to group things in a logical order. Now, even the polka-dotted pajama bottoms that somehow wiggled their way into our warehouse have a temporary home in the Clearance Corner."
About Adolph Kiefer & Associates:
Gold medalist Olympic swimmer Adolph Kiefer founded Adolph Kiefer & Associates in 1947. As the official aquatics supplier to the 1948 U.S. Olympic Swim Team, the company introduced the first nylon swimsuit as a lightweight alternative to wool and cotton suits and a cost alternative to the silk suits of the time. Since then, Kiefer has provided the swim community with many innovative aquatic performance and safety products including the original Wave Eater racing lane, fully customizable starting platforms, lifeguard equipment and apparel, and a complete line of competitive swimwear and goggles. Today, Mr. Kiefer continues to dedicate his life to helping swimmers of all ages and abilities. The company sponsors a full calendar of competitive swimming events and is a top competitive swim team supplier.
###