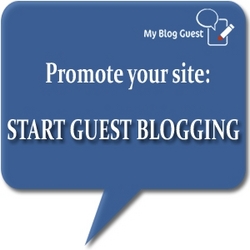 Articles Gallery is a unique way for bloggers to build valuable connections through great content.
Bradenton, FL (PRWEB) September 14, 2010
Articles Gallery is the most acclaimed service since My Blog Guest's launch in early 2009. The gallery consists of a list of all available articles, that can be filtered by category and searched by tag. By using the service, content writers can upload articles to the gallery, where blog owners can find them.
Article authors can rest assured that their content cannot be published without their approval. To publish an article from the Article Gallery, a site owner has to specifically request it. It's then up to its author whether the content gets published on a specific blog.
"You will never find a similar functionality", says Ann Smarty, owner of MyBlogGuest, "It's a unique way for bloggers to build valuable connections through great content. Basically all you need is to spend time writing a good post and then choose the best blog from the offers you receive.".
Article authors can be very particular about selecting the sites where they want their guest blogs to appear; especially to avoid duplicate content penalties. If the author accepts the offer, the blog owner will be given the full HTML of the article. Then, the article will be removed from the Article Gallery - this is how the gallery is constantly kept updated with unique content that hasn't been published elsewhere.
My Blog Guest also offers an option for article authors to apply to guest post for a blog they'd like to contribute to directly, with My Blog Guest Direct.
My Blog Guest will continue adding new features and services based on community feedback. The basic My Blog Guest services are free to use and include access to all available guest blogging opportunities; social media (and other) help from board administrators and moderators; and the ability to offer blogs to host available articles in the Articles Gallery. Pro users get access to advanced services, such as the ability to manage and track contacts and tasks via the "Watch list," the ability to send guest posts directly to blogger's wp-admin; and much more.
About My Blog Guest:
My Blog Guest, was founded by Ann Smarty in 2009, as a unique community that is based on one simple principle: if you provide quality, you don't need to pay to be heard. It unites bloggers who are interested in connecting to other bloggers, journalists and other content creators in any niche and publish their high-quality articles on their blogs.
###