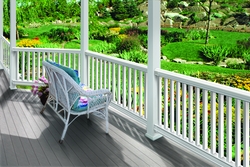 Cleveland, OH (PRWEB) September 10, 2010
Barrette Outdoor Living now offers Xpanse™ railing - a low maintenance deck, balcony or porch railing system with visual appeal and rugged durability. Xpanse is a complete product line of aluminum, vinyl and wooden outdoor products. The Xpanse brand offers homeowners the opportunity to create a cohesive look in their outdoor space. The railing has the same look as the Xpanse lattice, shed and fencing.
Xpanse deck, balcony or porch railings are easy to install and come in two color options allowing homeowners to create a distinct look. Xpanse railing is available at midrange to entry-level pricing with a limited lifetime warranty. The railings are engineered with commercial durability, quality and features that make them a low-maintenance alternative to traditional vinyl, wood or wood composite railings. Xpanse railings are approved by the International Code Council.
Xpanse outdoor deck, balcony or porch railings were created with the consumer in mind. The product has options to fit the homeowners' design aesthetic. Xpanse railing is available with square, aluminum round or colonial balusters. Xpanse railing is available in two series: Premier and Select. Barrette Outdoor Living will introduce its Elite series in 2011.
Xpanse Premier Series
Available in white or wicker, the Xpanse Premier Series of railing is ideal for front porches or back decks on residential or commercial properties. The low-maintenance railing has the look of hand-painted wood. The Premier Series rails have a selection of posts, tops and base trims.
The Premier Series is made with COMPOSICORE™, a water resistant core made with precision-engineered polymer that does not contain wood fibers or components. The core does not absorb moisture, rot, cup, warp, decay, or bow as wood rail does. COMPOSICORE limits maintenance problems, such as splintering, staining and mold and fungus removal that is typical with traditional wood, wood composite or vinyl railing.
Xpanse Select Series
The Select Series of deck, porch and balcony railing is also low-maintenance, easy to install and provides long-lasting value, performance and aesthetics. The Select Series is made with high-performance vinyl reinforced with aluminum and has the same features found in more expensive professional rail products.
This series allows the homeowner to mix and match balusters, unlike other railing systems. The Select Series includes a flat top rail, a reinforced aluminum core and is code compliant to meet safety requirements.
For more information call Barrette Outdoor Living at 1-800-336-2383 or visit http://www.XpanseGreaterOutdoors.com.
About Barrette Outdoor Living:
Barrette Outdoor Living is the North American leader in wood and vinyl fencing manufacturing. Barrette currently produces and markets exterior home products under a variety of leading brand names through specialty retailers, home centers and lumberyards. The nearly 50-year old company employs more than 1,000 workers in the United States and Canada and is headquartered in St- Jean-sur-Richelieu, Quebec, Canada. U.S. sales and marketing is based in Cleveland, Ohio. The company is privately owned and operated by the third generation of the Barrette family.
About Xpanse™:
Xpanse is a new brand from Barrette Outdoor Living. It is a full product line of railing, fence, sheds, lattice and other outdoor accessories available in aluminum, vinyl and wood. Xpanse products are made to complement one another and form a complete, cohesive and customizable outdoor experience. Xpanse products are available at lumberyards for DIYers and contractors.
###