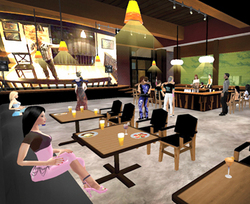 This provides a new, exciting and unique experience for people to view live entertainment either in person or in the virtual world if they can't make it to the actual event
Vancouver, Canada (PRWEB) September 11, 2010
Virtual-Vancouver.com will host a Virtual Night of Comedy, a real-time web stream of an all-star comedy event scheduled Sept. 16 at BBQues restaurant. This marks the first time this kind of live comedy and entertainment has been made available to thousands of residents without leaving their homes.
The local barbecue eatery has teamed with Virtual-Vancouver.com parent company Utherverse Digital to host the event on stage while simulcasting it live online at BBQues in-world location. Attendees in real life will be able to watch virtual avatars within the 3D world via TVs located throughout the restaurant, while virtual partygoers will see the live in-person event from within the online world.
"This provides a new, exciting and unique experience for people to view live entertainment either in person or in the virtual world if they can't make it to the actual event," Utherverse President Zak Zarry said.
The event will be hosted by local comedian Greg Kettner and will showcase top-rated acts that have been featured at Yuk Yuks, Just for Laughs, CTV's Comedy Now, Las Vegas HBO Comedy Festival and Canada's Next Top Comic. The headlining act will be Patrick Maliha, supported by fellow funnymen Chris James, Kyle Jones and several others.
The live web stream will start Sept. 16 at 7 p.m. in the BBQues virtual space with a $5 cover charge. The virtual event also will have a small cover charge using a virtual currency called "Rays." BBQues' physical location is 1043 Mainland St. in Yaletown.
To attend the event online please visit http://www.Virtual-Vancouver.com or explore the Virtual World Web at http://www.thevww.com
Virtual Vancouver is part of Utherverse Digital's Virtual World Web (VWW), which features more than 35,000 virtual worlds with more than 6 million registered users.
The VWW is a series of interconnected 3D communities that deliver a user experience vastly more enriching and satisfying than the traditionally flat World Wide Web. Utherverse Digital's groundbreaking technology has revolutionized the way people relate to each other and embark on online experiences. With its 35,000 worlds, the VWW delivers entirely new kinds of online social interactions, as well as vastly improved methods for business that engages users to experience entertainment, commerce, news and events from the comfort of their own homes.
###