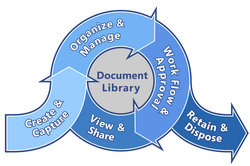 (PRWEB) September 10, 2010
GSA is the key acquisition vehicle for federal government agencies; the award gives over one million federal workers and certain Government funded agencies access to FileHold document management software without having to go through an exhaustive competitive pricing process. The contract award was made after a rigorous examination of FileHold pricing and business practices to ensure that the US Federal Government would get best value and quality.
Larry Oliver, President of FileHold Systems said "we already have a strong customer base of Government Agencies . Our product is affordable, and fast to deploy making it perfect for departments of Government who need to organize and share their electronic information in a secure manner. Both business and Government want to reduce their reliance on paper, protect their intellectual property, and automate information review and approval processes. The GSA contract for FileHold software includes productivity features such as: document scanning and imaging, document workflow and approval, powerful search, document viewers and redaction plus tight integration with Microsoft Office and Microsoft SharePoint. The GSA offer makes it easy for Government agencies to acquire and deploy our robust 'paperless office' solution."
About GSA
The General Service Administration is an independent U.S. Government agency, established in 1949 to help manage and support the basic functioning of federal agencies. . GSA's acquisition solutions offer private sector professional services, equipment, supplies, telecommunications, and information technology to government organizations and the military. GSA policies promote management best practices and efficient government operations.
About FileHold Systems
FileHold, http://www.filehold.com is a privately owned, Microsoft Gold, manufacturer of affordable document management software with over 8,000 seats in production throughout the world. FileHold software; the fast track to the "Paperless Office", is easy to use, easily interfaces with third party applications and is tightly integrated with Microsoft Office and SharePoint. FileHold empowers workers to store and find their important documents, including e-mail, while maintaining tight version control and managed workflow. For a free public demonstration of document management software: http://www.filehold.com/business/sign-up.htm
###