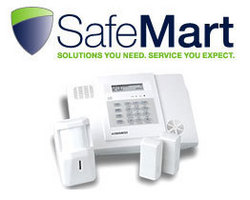 Our thought is that if a customer is merely satisfied, we haven't done our job.
Saint Marys, KS (PRWEB) September 13, 2010
For the second consecutive year, SafeMart, a leader in the home security and monitoring industry, was named to the exclusive Inc. 5000, a list of the fastest growing privately-owned companies in America.
Each year, Inc. Magazine releases a list of the nation's fastest growing privately-owned companies. To be eligible for the list, companies must show at least $2 million in revenues in 2009 and experience growth over a three year period. SafeMart grew from revenues of $3.4 million in 2006 to $5.9 million in 2009, a growth of 72%. This growth earned the company number 2,943 on the prestigious list.
The SafeMart team believes this success is primarily due to a specific way of doing business, combining the security industry's latest technologies and services with a central focus on what they call "customer delight."  According to Christopher Johnson, the company's President, "We consider it a normal part of doing business to offer the best products and services. I think what is really exceptional is our desire to give personalized service to each customer."  Asked what his company meant by "delighting" customers, Johnson said, " Our thought is that if a customer is merely satisfied, we haven't done our job.  It is precisely that focus on delivering an exceptional customer experience that continues to make us a rapidly growing leader in this industry."
The company's insistence on those two pillars of doing business added another benefit as well. "Referrals have always been a driving force in our business. Now that we've made a concerted effort to focus on customer delight and new services, we've seen customer referrals increase," said Joseph Mioni, SafeMart's Director of eCommerce. "It just makes sense," said Mioni. "If you take care of your customers, not only will they be customers for life, but they tell their friends about you; and really, that's the highest accolade of all."
Revenue is not SafeMart's only area of growth. With the increase in business has come a need for additional employee resources. In 2009 alone, when the national unemployment rate increased to almost 10%, SafeMart workforce increased by 40%. And, according to Johnson, the company is on track to match that number again this year. When pressed on his thoughts for the future, Johnson said, "Because of our commitment to excellence, and our complete dedication to our model of business, I have no doubt that we will continue to experience the sort of growth that lead us to a spot on both the 2009 and 2010 Inc. 5000 lists."
About SafeMart.com
SafeMart is a home security company with an emphasis on do-it-yourself applications for home and business owners. Over the past five years it has emerged as one of the leaders in the industry. The company currently offers thousands of home security and home automation products, in addition to a variety of alarm monitoring services.
###