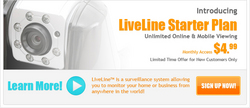 Los Angeles, CA (Vocus) September 10, 2010
LiveLine, the affordable and easy to use surveillance system, is excited to announce that it is no longer in beta phase. Coinciding with this announcement is the introduction of an affordable starter plan. This basic plan, available for $4.99, gives users unlimited online and mobile access. Available free and immediately on the Apple App Store, the LiveLine iPhone application allows users to remotely view their homes, families, or businesses while on the move. LiveLine users have all these great features at the tip of their fingers. Features include viewing live images, saving snapshots, accessing pan/tilt features such as auto patrol, pan/scan, or use of the standard or preset controls.
LiveLine takes the hassle out of setting up an IP camera with its easy to install system – just plug and view with zero-configuration. And unlike most remote video surveillance systems, LiveLine is Macintosh friendly and works on all major web browsers. Simply log into LiveLine.net and view your camera from anywhere in the world.
About LiveLine
LiveLine is a web-based surveillance solution that allows for 24 hour video monitoring over the Internet and mobile phones. This video monitoring system is not only cost effective but also simple to set up and easy to use. The installation of LiveLine cameras is both effortless and instantaneous. There is no software to install, no special computer skills required and all LiveLine features can be easily accessed through a standard Internet browser. LiveLine makes surveillance affordable at a fraction of the cost compared to most surveillance solutions. By reducing the cost and offering simple installation, LiveLine is without a doubt, a smart investment decision. To learn more, please visit http://www.liveline.net
###