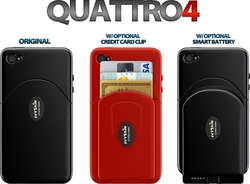 S. Hackensack, NJ (PRWEB) September 10, 2010
IvySkin USA, a leader in premium mobile accessories, announces today the release of the new generations of its award-winning line of protective cases for the Apple iPhone 4. The all new Quattro 4™ cases as well as the SmartCase™ for iPhone 4 are the world's most advanced iPhone 4 accessory. Featuring, interchangeable battery pack and patented Touch-Thru™ glass Multi-Touch screen, exclusive to IvySkin USA.
The all new Quattro 4™ case for the Apple® iPhone 4 offers the most comprehensive protection while providing a superior form and design. Throughout several generations of iPhones the legendary Quattro Series cases have set the performance benchmark for case design and protection. The new 4 is based on our award winning Quattro T4 design for the iPhone 3GS. The Quattro 4™ features a patented Xylo™ Glass technology for the ultimate in Touch-Thru™ design. Authentic glass ensures that you will not lose any sensitivity while using these cases.
The all new SmartCase 4™ for iPhone 4 is both iconic and legendary in design and performance, with features that are second to none in the market today. Fully understandable since it embodies much of what has been learned through 3 generation of iPhone case design. This case is stronger, more compact, and packed with features unlike any other iPhone case in its class.
As the market pioneer in delivering enhanced Polycarbonate protection for digital devices, IvySkin continues to provide superior and cutting edge solution for the new iPhone 4. The iPhone 4 embodies the notion of what IvySkin stands for; thoughtful designs that make no compromises when it comes to protection.
The Quattro 4™ case retails for $44.99 USD and comes with Glass Touch-Thru™ scratch free screen in addtion to the Polycarbonate shell that snaps on the back of the iPhone. It is now available in four colors at http://www.ivyskin.com/quattro4-case.html and at retail stores in the coming weeks.
The SmartCase™ 4 retails for $79.99 USD and comes with Quattro 4™ case along with a 1500mAh battery pack. In addtion to the Glass Touch-Thru™ screen. It is now available for Pre-Order in four colors at http://www.ivyskin.com/smartcase-4.html and at retail stores in the coming weeks. For additional information on these or other IvySkin products, contact PR representative Sara Cohan at sara(at)ivyskin(dot)com or 201-266-5555. Follow us on twitter.com/ivyskin for live social updates.
About IvySkin
IvySkin®, is a leading provider of innovative Touch-Thru™ accessories and manufacturer of the famous Xylo™, Quattro™ as well as the world's first SmartCase™ We have one clear mission in this saturated market, and that is to be different; different in bringing together cutting edge, fresh designs into the Apple's world. We are proud to be an American company that designs, manufactures and delivers useful and fun solutions for digital entertainment and personal computing
**SmartCase™, Quattro™, Touch-Thru™ are registered trademark of IvySkin USA. *** SmartCase™ is US patented product. Protected by multiple US patent N. 621,393
###