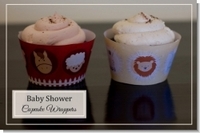 Our new line of cupcake wrappers are perfect for the trendy Mom to be who is looking for a fun elegant way to end her special event with a sweet treat for her special guests
Temecula, CA (PRWEB) September 10, 2010
Candles and Favors, the family-owned "Party Authority" and online retailer, announced today that they will now offer a new line of Baby Shower Cupcake Wrappers in their most popular themes for only $1.24 each.
Candles and Favors is consistently watching current trends and listening to their customers' needs. "We are always striving to create unique baby shower favors and decorations to meet our customers' changing needs and time constraints" noted Lisa co-owner of Candles and Favors. "When our team began collaborating on the new cupcake wrappers we had some simple goals in mind such as making them affordable, and providing them in a way that will save the customer time as we are all so busy these days. Each cupcake wrapper is printed on high quality paper stock and is sold in sets of eight, they are pre-cut so all the customer needs to do is wrap them around the cupcake of their choice and that's it.
No printing and cutting required by the customer!
"Our new line of cupcake wrappers are perfect for the trendy Mom to be who is looking for a fun elegant way to end her special event with a sweet treat for her special guests" Continued Lisa. The baby shower cupcake wrappers are currently available in Candles and Favors most popular baby shower themes including the Jungle Baby Shower theme, Turtle Baby Shower Theme, Ready to Pop Baby Shower Theme and many others!
Candles and Favors is a family-owned online retailer offering everything you need to throw a fantastic party. We offer an extensive line of invitations and favors for baby showers, bridal showers, birthday parties, and more. Candles and Favors has been a part of welcoming Jennifer Lopez's twins Max and Emma into the world, and also welcoming Regis Philbin's grandson, William Xavier Schur.
###