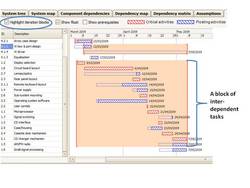 Traditional project tools only expose approximately 50% of the total interactions within a project, missing almost completely the domain where the greatest risks reside.
Melbourne, Australia (PRWEB) September 22, 2010
Project DSM Pty Ltd has launched a new project software tool specifically for the planning and management of innovation and new product and service development projects and for the analysis and optimization of new business models and processes.
The software uses design structure modeling (DSM) combined with conventional project management frameworks and user-friendly wizards and guides project managers to a risk and cost optimized project structure and schedule.
Innovation projects are often seen as hard, or even impossible, to manage and are plagued by cost and schedule overruns. The new software enables companies to minimize project rework by identifying where and when project rework risks are likely to occur. Project managers can now develop a robust project structure and estimate size and potential timing of rework contingency budgets.
"Currently, uncontrolled project cost and schedule overruns of 100 to 200% are common in innovation projects. The results are design compromises, late market entry and lost profits. One of the primary reasons for these overruns is a sub-optimal project planning process." says Elke Scheurmann, Marketing Director of Project DSM.
Project managers have historically used a logistical project planning model of sequencing a Work Breakdown Structure into a PERT/CPM network, or, in some cases, only a Gantt chart.
"With innovation projects, we deal with a complex web of information that must be processed into a risk-optimized project structure. Only after we understand the critical information flow can we translate that into specific project structure and a task schedule to achieve the desired outcome in the shortest possible time and at least cost." said Elke.
Current project planning software tools cannot handle the complexities of information dependencies and interdependencies, where one project element is dependent on the input from another and vice versa. These types of dependencies and the assumptions made around them can involve more than half the tasks in new product and service innovation projects.
The ProjectDSM software tool effectively deals with these dependency webs and identifies the hidden project risks, particularly those that are unknowingly built into the project during the planning phase. The software also identifies where targeted prototyping can be used to overcome technical or customer acceptance hurdles.
Mark Irving, Technical Director of Project DSM, said "Our software was designed to take advantage of the powerful DSM methodology, which has so far only been used in very large companies with project offices. This means that we can now deliver the same benefits for smaller and mid-sized projects and businesses." Elke Scheurmann commented, "True lean and rapid innovation is not possible without tools that lead you to a risk-optimized project structure and schedule that reduces wasted time and resources".
Click here for a ProjectDSM product tour or download the software for a free trial at http://www.projectdsm.com.
###