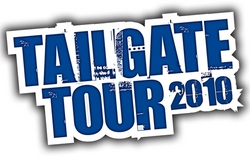 "Our presentation is truly the original and largest traveling fan experience in college sports"
Deerfield Beach, FL (PRWEB) September 10, 2010
Celebrating the 10h anniversary, NFuse Marketing rolls out the 2010 Tailgate Tour. Billed as the original and largest fan experience marketing tour in the U.S., the tour is hitting the biggest Football game match-up's and rivalries over the next few months. The tour will touch over 1 million consumers at site and many more online and across our media partners Versus Television Network, G4 Television Network, Fox Sports Radio, Sirius XM, Tailgater Monthly Magazine and a host of local media outlets.
The Tour will feature a host of partners that include presenting sponsor Xbox 360 in their launch of Halo Reach and Kinect for Xbox. Also joining is Kraft Foods with their debut of Wheat Thins Stix, Char-Broil Grills and Dish Network. Additional partner to the tour include: Dockers, LaQuinta Inn's & Suites, Reser's Foods, CBS Films with their upcoming release of "Faster" and the Central Region Ford Dealers. "In all the years we've been out, this will be the largest yet" says Jay Freedman NFuse's President. "We created this tour 10 years ago to provide fans (who show up hours before game time), a fun experiential program that captures the sprit of the college sports" Freedman continues. The tour will also feature an array of interactive games, live performances, music, a free comprehensive guide to tailgating, contests, on site instant wins, and the distribution of thousands of free prizes.
The tour kicked off last week in Ann Arbor, Michigan to the cheer of thousands of fans celebrating the opening of the "The Big House" (University of Michigan stadium) and then heads on a 17,000 mile ongoing trek across the country. With support of strategic partner ISP Sports, the tour will hit:
9/11 – Florida State @ Oklahoma – Norman, OK
9/18 – BYU @ Florida State – Tallahassee, FL
9/25 – Alabama @ Arkansas - Fayetteville, AR
10/2 – Florida @ Alabama (rematch of SEC Championship)
10/09 – LSU @ Florida – Gainesville, FL
10/16 – Texas @ Nebraska – Lincoln, NE
10/23 - Oklahoma @ Missouri – Columbia, MO
10/30 – Celebrating Florida v Georgia – Jacksonville, FL
11/6 – TBD (Games in consideration include: Clemson, LSU, South Carolina, Penn State)
11/13 –Georgia @ Auburn
11/20 –VT @ Miami – Miami, FL
11/27 – Michigan @ Ohio State (Columbus, OH)
12/4 – USC v UCLA (Los Angeles
Complete details on all dates and activities related to the tour will be showcased at http://www.tailgatetour.com. Local partners on the Tailgate Tour will include a long list of local radio stations, online and newspapers.
NFuse partners this year will provide some unique and creative on-site experiences to include:
G4's popular series X-Play, the longest-running and most-watched videogame show on TV, takes the most-anticipated game of the year on the road for a cross-country head-to-head challenge. G4 is teaming up with the Tailgate Tour and XBOX to stage multiplayer battles on the soon to be released Halo: Reach. Wheat Thins is showcasing a high energy group of musical performers on stilts entertaining fans. Char-Broil Grills in a partnership with TV Famed West Coast Customs, will debut a Hot Rod Grilling Wagon that will tour the RV and Tailgating zones. Following the tour skills competition theme, Fans at the "Faster" film area will test their arm strength and accuracy for football passing. "With over 16 large video monitors on site combined with our media partners, there is a host of interactivity for fans say Freedman. Often imitated, our presentation is truly the original and largest traveling fan experience in college sports"
The Tour has drawn interest from some of today's top sports marketers and received significant accolades from major Universities and pro teams. "We are about connecting brands with consumers first and foremost in an environment that is friendly, filled with energy and fun for the family. Ultimately our goal is about providing a WOW" Freedman expressed.
NFuse Marketing is based in Deerfield Beach, Florida and Los Angeles. NFuse Marketing is a strategic integrated Marketing, Promotion and Events company that directs an array of custom marketing programs for Radio, TV and Brands. NFuse builds hundreds of custom programs a year that are structured on providing 360 degrees solutions for its clients. http://www.nfusemarketing.com
###