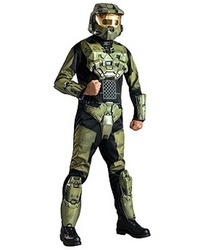 Edison, NJ (PRWEB) September 14, 2010
Today is the release of Halo: Reach, the newest installment in the Halo video game series. To mark the event, Costume SuperCenter, one of the world's largest online retailers of Halloween costumes, will offer Halo costumes at 20% off their already low prices. This offer will extend through September 19th. The hype around the release of Halo: Reach will secure high volume sales on all Halo Costumes through Halloween. Costume SuperCenter is ready to meet the demand, with inventory on all versions of Halo 3 costumes.
Halo: Reach is the prequel to the Halo trilogy. It takes the player back to where it all started when the Spartan soldiers, referred to as the Noble Team made their final stand on planet Reach, humanity's last line of defense between Covenant and Earth. The game is a first person shooter that features new weapons and even outstanding visual realism. The playable character is called Noble 6 and his armor is the same as that of the Halo 3 Master Chief costume.
Costume SuperCenter's 20% discount applies to men's Halo costumes over $30.00. Shoppers need to use the promo code TAKE30 at checkout to receive the discount. Due to the graphic nature and rating of the game series, Halo 3 costumes only come in men's sizes so Costume SuperCenter offers an extra small to fit teen Halo fans. Sizing goes up to extra large.
For gaming enthusiasts Halo: Reach is certain to be the gold standard in realism. The game was developed by Bungie, published by Microsoft Game Studios and designed exclusively for XBOX 360.
About CostumeSuperCenter.com
In 2005, Steve Mandell, founder of Party City decided to leverage his expertise in the Halloween costume business to create a costume website that makes purchasing costumes simple and convenient. Mandell recognized the need for increased selections, high quality and more fashion savvy designs in the marketplace and that costumes should be available year round at low discount prices. Thus, CostumeSuperCenter.com was born.
The online store features thousands of different costumes and accessories for people of all ages and pets too. CostumeSuperCenter.com also has one of the largest selections of hats, wigs, masks, accessories and make-up.
# # #