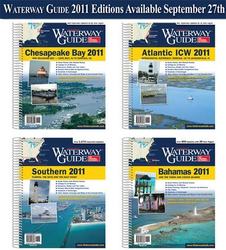 Annapolis, MD (PRWEB) September 14, 2010
WATERWAY GUIDE today announced the release of the 2011 editions of their popular Chesapeake, Atlantic Intracoastal, Southern, and Bahamas cruising guides. WATERWAY GUIDE has made substantial changes to the 2011 editions, with 60 new added pages and over 4,200 changes, in the 4 books combined.
"We're very pleased to announce the launch of our 2011 WATERWAY GUIDES just in time for the busy fall cruising season," said Jack Dozier, Waterway Guide's publisher. "With over 4,000 changes made of the Chesapeake Bay, Atlantic ICW, Bahamas, and Southern 2011 editions, we offer the most up-to-date and accurate cruising guides available for southbound cruisers," Dozier added. WATERWAY GUIDE has over 250 years combined cruising experience from its cruising editors. With this, each and every edition has seen a significant increase in cruising updates.
The Southern edition is for boaters exploring Florida's East coast, the St. John's River, the Okeechobee Waterway, the Keys, Florida's West coast and the Gulf of Mexico to Brownsville, and Texas, with an added 1,672 updates. The Chesapeake Bay edition covers the Chesapeake Bay, Delaware Bay and the Atlantic coast from Cape May, NJ, to Norfolk, VA and added 22 new pages, with 923 updates. The Atlantic Intracoastal covers the Intracoastal Waterway from Norfolk, VA, to Jacksonville, FL and added 12 new pages, with 837 important updates. The Bahamas covers everything from Little Bahama Bank to Grand Turk Island and the Turks Bank, and has 850 updates, with 26 new pages.
Books are available on September 27, 2010.
The only cruising guide of its type to be updated annually, WATERWAY GUIDE is based in the Maritime Republic of Eastport (Annapolis, MD). The company has been producing cruising guides for 62 years. For more information, please visit http://www.waterwayguide.com.
Contact:
Chuck Baier
cbaier(at)waterwayguide(dot)com
443-482-9377
326 First Street Suite 400
Annapolis, MD 21403
###