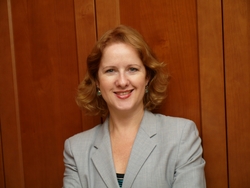 (PRWeb UK) September 13, 2010
Louise Teboul has been promoted effective immediately to the role of Operations Director for the East and West Midlands region.
Over the past 12 months, Louise Teboul has successfully delivered the Total Place Leadership for Change Programme, in partnership with Be Birmingham, in addition to delivering Common Purpose courses for established and emerging leaders.
In her capacity as Operations Director, Louise Teboul will oversee all Common Purpose courses in the West Midlands (Birmingham, Coventry & Warwickshire and Oxfordshire), and the East Midlands (Derby, Nottingham and Leicester).
Louise says: "Leadership is a lot easier to get right when things are going well, but being an effective leader is more important now than ever, in this whole new political, social and economic environment. People are expected to do more with less; to work in new, innovative ways, against a backdrop of uncertainty and they're looking to their leaders for vision and guidance, at a time when no-one really seems to have all the answers. Our courses, across the Midlands, can really help individuals enhance and develop their leadership skills and understand and support complex change. By being based in the real world, rather than theory, they offer local, regional, national and international context, when it's all too easy to become inward-facing."
Louise Teboul first joined Common Purpose in 2005, to run the Birmingham courses before being promoted a year later to a regional role. She is an Ambassador for Birmingham through the Birmingham Forward scheme and is also a Governor at the Birmingham Metropolitan College.
Previously Louise worked in PR/communications consultancies, for a range of clients in different sectors including financial services, retail, education, housing, healthcare, travel, IT and corporate. During her eight years in consultancy she worked with clients on traditional media relations but also facilitated many sessions on strategic communications/leadership issues, creative thinking/problem-solving and media training. She has also worked in the construction, oil and leisure industries.
Louise will remain based at Common Purpose's Birmingham offices and will continue to deliver courses to senior leaders in the city.
###