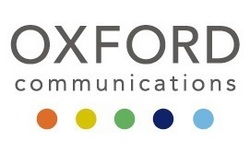 In an increasingly cluttered and fragmented information environment, copy-heavy reports no longer capture or retain users' attention
Lambertville, NJ (PRWEB) September 10, 2010
Oxford Communications, the award-winning creative marketing agency based in central N.J., announced today it has partnered with NetProspex, a leading sales and marketing database company, to develop a four-part infographics package supporting the company's "Top 50 Social Media Report" released today.
The study, which analyzes the social media presence and activity of professionals across the U.S., also ranks the top 50 most social cities across the country.
"In an increasingly cluttered and fragmented information environment, copy-heavy reports no longer capture or retain users' attention," said Communications Strategist Ben Grossman, Oxford Communications. "Infographics are the oratory of today's Internet. If you want your information to be absorbed quickly and shared virally, it should be presented in a compelling and inherently sharable format."
Please visit http://www.oxfordcomm.com/npsicities.html for a downloadable file of Oxford Communications' Social Professionals infographic for NetProspex Top 50 Social Media Report.
About Oxford Communications
Voted "Best of Show" twice by New Jersey Ad Club, Oxford is the best of the best in New Jersey, and we don't mind saying so. The full-service marketing, creative and communications agency works with national consumer brands including Brother International Corporation and Villa Enterprises Management, top regional clients including Quick Chek, Bucks County Conference and Visitor's Bureau and Drexel University, plus healthcare industry leaders including the Rahway and Hamilton campuses of Robert Wood Johnson University Hospital. With more than 24 years experience developing creative marketing campaigns, Oxford and its nearly 50 employees work in Lambertville, N.J., on the site of the legendary Music Circus where greats like Louis Armstrong, Ella Fitzgerald and even Liberace graced the stage. Brilliance and genius are quite literally in our soil, and it shows in our award-winning work. For more information, call 609-397-4242 or to see what we're all about, visit http://www.oxfordcommunications.com.
###