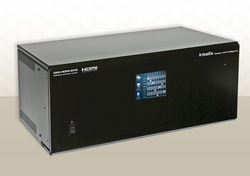 Colorado Springs, CO (Vocus) September 11, 2010
In a move underscoring its solid commitment to making the transition from analog to digital as easy as possible, Liberty AV Solutions is now offering the Intelix model DIGI-VGA-SD-8x8 Twisted Pair Matrix. Combining a comprehensive audio/video switcher with Intelix's industry-leading twisted pair extenders, the device provides eight analog video and stereo inputs that can be distributed to eight twisted pair outputs in any combination. Ideally suited for applications that incorporate a diverse collection of components within a single AV system, the 8x8 matrix eliminates long, unwieldy cable runs and provides a template of true matrix switching within which any input can be switched to any output.
The 8x8 matrix is outfitted with eight HD15 connectors for use with VGA video as well as eight 1/8-inch mini (3.5 mm) stereo audio connectors. With the addition of an accessory breakout cable, the unit is also compatible with high-definition component, composite, and Y/C video. Using the built-in twisted pair extenders found on each output channel, UXGA (1600x1200) distribution is provided up to 350 feet, while HD component signals up to1080i HD travel up to 1,000 feet without the need for any external little black boxes.
While other extenders may fail to deliver on the promise of transporting both audio and video over a single cable, the Intelix 8x8 matrix's proprietary circuitry interlaces RS232, IR, and high-definition video with stereo audio in a fashion transparent to one another. RS232 is bi-directional, while each output channel remains addressable. IR commands are transmitted from remote locations via the twisted pair cable into the matrix, then out to relevant outputs.
Controlled via an RS232 serial port and fully compatible with third-party control systems, the 8x8 matrix comes standard with Intelix's Smart Control software for use with PCs. Perfect for use with both modular and wall plate model Intelix SD Series receivers as well, the unit can also simultaneously support VGA and HD component video—with stereo audio and control—via a single twisted pair cable by using a dual-output, model DIGI-VGASD-R accessory receive balun.
Beyond the DIGI-VGASD-R receiver, other accessories offered for use with the 8x8 matrix include breakout cables, IR emitters, and other video receive baluns. Now shipping, the device will be on display at this year's CEDIA 2010 Expo in booth #2318.
###