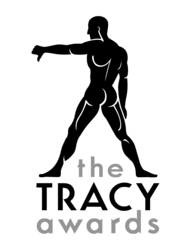 "I don't know why I didn't think of this myself," said Advertising Age's general editor, Ken Wheaton.
Salt Lake City, UT (PRWEB) September 13, 2010
If you think bad advertising deserves a swift kick in the ads, now's your chance to take your shot, with the Tracy Awards – the only awards contest of its kind that publicly ridicules bad advertising.
In its second year of judgment, the Tracys invites public submissions that mock, scorn and generally poke fun at the very worst advertising has to offer. All types of ads are fair game - TV, print, web, billboard, business card, whatever. It's free, anonymous and easy. Simply upload the eyesore onto http://www.thetracyawards.com, tell the Tracys why your nomination deserves the award for bad advertising, and consider your work done.
The Tracy Awards panel will review and judge each ad. Harshly. If it's bad enough, it will win a Tracy Award, and the people who originally thought the ad was a good idea will get a trophy in the mail commemorating their "crapvertising."
In 2009, advertisers such as Oreo, Microsoft, Snickers and Coors Light each hoisted a champion's cup for abysmal advertising. Will the big dogs of ad spending redeem themselves this year? Who knows? It's up to you to decide. Submit a bad ad and tell why it lowers the bar for the advertising industry.
"I don't know why I didn't think of this myself," said Advertising Age's general editor, Ken Wheaton, in his 2009 article. How often does he wish he could get back at these bad advertisers with an award for bad advertising? His exact words were, "Every. Day."
Now it's your chance. Submissions open September 14, 2010 and run through the end of October, and the Tracy Awards winners will be announced in early December. The results will be nationally publicized as the worst advertising of 2010 and the winning submitters will get some cash for their brutal honesty.
Follow the Tracy Awards on Facebook and Twitter and read up on the latest "Cream of the Crap," a daily post highlighting some of the most noteworthy Tracy Awards submissions at http://www.thetracyawards.com.
There's a lot of bad advertising out there. Let's make fun of it.
# # #