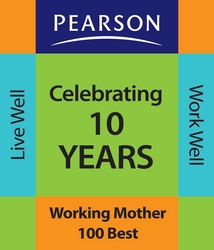 New York (PRWEB) September 14, 2010
Pearson, the education services and technology company, today celebrates its tenth year on Working Mother magazine's 100 Best Companies list. With more than 37,000 workers in 60 countries, Pearson provides a vast array of worklife programs that support employees at every stage of their lives, which is especially important in today's tough economic climate.
This year, Working Mother is honoring Pearson for its programs that encourage flexible work options, such as flex hours, part-time work and telecommuting; educational opportunities that support a healthy lifestyle and encourage employee development; and a dedication to worklife benefits, such as back-up childcare and eldercare as well as financial aid for adoptions. Pearson's full 100 Best Companies profile can be seen in the October issue of Working Mother and at workingmother.com/bestcompanies.
"Since 2000, Pearson has been proudly named as one of the nation's top companies for worklife benefits ten times," said Christine Trum, Senior Vice President, Human Resources at Pearson. "As an enterprise, we are built on brain-driven capital, so we're committed to maintaining a culture that encourages worklife effectiveness, supporting and encouraging every one of our diverse employees to live well and work well."
The company also offers extensive healthy living programs including online classes about healthy behaviors, a national Weight Watchers program, and National Employee Health and Fitness Day that consists of comprehensive health screenings and fitness and nutrition demonstrations. Pearson's employees also are eligible for tuition reimbursement and training opportunities.
As a testament to Pearson's commitment to all employees, the company also has been honored in the past decade as an AARP Best Employer for Workers Over 50, a World's Most Ethical Company by ethisphere.com, a Top Employer by the National Association for Female Executives and a Top Company in the media sector in the annual review for the Dow Jones Sustainability Indexes.
To learn more about Pearson or how to join the Pearson team, visit http://www.pearsoned.com/careers/index.htm.
About Pearson
Pearson (NYSE:PSO), the global leader in education, teacher training, education technology and school solutions, provides innovative print and digital education materials for preK through college, student information systems and learning management systems, teacher professional development, career certification programs, and testing and assessment products that set the standard for the industry.
About Working Mother Media
Working Mother magazine reaches 2 million readers and is the only national magazine for career-committed mothers; WorkingMother.com brings to the Web home and career information, advice and a broad range of solutions daily. This year marks the 25th anniversary of Working Mother's signature research initiative, Working Mother 100 Best Companies, the most important benchmark for work-life practices in corporate America. Working Mother Media, a division of Bonnier Corp. (http://www.bonnier.com), includes the National Association for Female Executives (NAFE, http://www.nafe.com), Diversity Best Practices (http://www.diversitybestpractices.com), the WorkLife Congress and the Multicultural Women's Conference and Leadership Summits. Working Mother Media's mission is to serve as a champion of culture change.
Contact
Stacy Skelly, 1.800.745.8489, stacy.skelly(at)pearson(dot)com
# # #