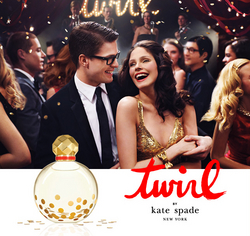 New York, NY (PRWEB) September 13, 2010
On September 3, 2010, kate spade new york launched twirl, a new signature fragrance designed with a spirit of joie de vivre and a perfect evening in mind.
To compliment twirl, creative director and co-president Deborah Lloyd designed a capsule collection of six pieces. The collection was created to outfit any girl for a perfect cocktail soiree and includes gold sequined shoes with a bright red heel, a glittering evening bag, necklace, cuff, lipstick and set of champagne coupes. All items from the twirl capsule collection are available for purchase on katespade.com and in kate spade shops.
In addition to the capsule collection, available for free download on katespade.com is a curated twirl playlist featuring artists such as She and Him, Mayer Hawthorne and Josh Rouse (while supplies last.) Visitors to katespade.com will also be able to download three wallpapers from the twirl ad campaign and view a video that captures the inspiration behind the fragrance – the perfect party.
Around New York City, the twirl campaign can be seen on a wrapped bus and in the subway station at Broadway-Lafayette. The twirl video can also be seen projected at select locations in New York City and San Francisco.
Finally, to celebrate the launch, Deborah Lloyd hosted a special dinner along with Elizabeth Arden at Plein Sud's private dining room at Smyth Hotel in TriBeCa. Attendees included actresses Jessica Szohr, Alexis Bledel, Katrina Bowden and twirl model Lonneke Engel.
See attached images for highlights from the night
Additional event images available upon request
About kate spade new york:
in 1993, kate spade designed the utilitarian handbag she'd been craving for years but hadn't been able to find. and so began a revolution in the accessories market.
simple silhouettes sprang to life with crisp palettes and clever details. women and fashion editors alike fell for the designs. and the company grew (and grew, and grew).
over time, core design values were reinforced by classic shapes and modern graphic elements, establishing a visual shorthand for the brand recognizable the world over.
in 2007, kate spade turned the reigns over to design powerhouse liz claiborne inc. deborah lloyd, formerly of banana republic and burberry, took the helm as creative director and co-president with an aim to broaden the line while honoring kate's rich history.
today you'll see us on the arms of women everywhere—with 36 retail shops, a thriving e-com business, 89 boutiques in asia, a new flagship in brazil and distribution in more than 400 doors worldwide. categories include handbags, accessories, jewelry, shoes, apparel, eyewear, hosiery, tabletop, paper and fragrance.
###