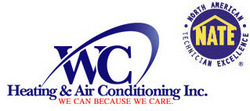 There has never been a better time to invest in energy efficient products for your home's HVAC
Murrieta, CA (PRWEB) September 13, 2010
WC Heating & Air, Inc., a leader in the heating and air conditioning installation and service industry for Riverside County, announces to Southern Californian residents that there are currently up to $4,950.00 available in rebates and tax credits for ENERGY STAR qualified HVAC installations and equipment/appliances. WC Heating & Air, Inc. makes use of the ENERGY STAR qualified appliances in their central air and heating systems installations, allowing their customers to take full advantage of the available tax incentives and rebate options while allowing them to lower their monthly utility bills thanks to the more energy efficient appliances and equipment.
The available rebates break-down is as follows:

$1,250.00 – So Cal Edison rebate when a contractor installs your system using ENERGY STAR qualified installation guidelines.
$200.00 – The Gas Company rebate for ENERGY STAR qualified furnace purchases
$200.00 - $1,000.00 – The California Cash for Appliances rebate
$1,500.00 – Federal Tax Credit
Up to $1,000.00 – Manufacturer's rebate
All rebates combine for up to $4,950.00 in total savings.
"There has never been a better time to invest in energy efficient products for your home's HVAC!" said Rusty Cochran, Founder and CEO of WC Heating & Air, Inc. "Call us now to get a quote on these products and installation. These offers won't last forever, so act now while these rebates apply!"
All rebates are currently available through December, 2010. WC Heating & Air, Inc. is encouraging local residents to take full advantage of these local and government rebate programs to maximize their energy efficiency and minimize their recurring monthly bills. Residents and businesses alike can qualify for the most on rebates and tax credits when receiving central heating and air conditioning installation.
For additional information on WC Heating & Air Conditioning, please visit http://www.wc-air.com.
About WC Heating & Air Conditioning Inc:
WC Heating and Air Conditioning has many years of experience with installing and providing service for commercial and residential projects in Riverside County. The company's dedication to outstanding performance with high levels of professionalism has enabled WC Heating & Air Conditioning Inc. to become one of the most respected and fastest growing HVAC companies in the region. Their president, Rusty Cochran, specializes in quality craftsmanship, from installation to servicing, for all major HVAC units, backed by 20 years of industry experience.
###