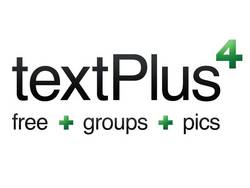 The numbers don't lie - people are very excited about this new app
Marina del Rey, CA (PRWEB) September 10, 2010
Just 30 hours after going live in the Apple App Store, GOGII's new textPlus 4 Pics Edition has been downloaded 100,000 times and broken in to the store's top 10 most popular "Top Free" apps in the U.S. and Canada. The popular app also scored the #1 spot for iTunes' "Lifestyle" app category in the U.S. and Canadian stores. Free to download and use on Apple iDevices, textPlus 4 Pics Edition takes texting to a fun, social level by adding unique picture messaging to the popular textPlus free group texting app.
"The numbers don't lie - people are very excited about this new app," said Scott Lahman, CEO of GOGII, creator of textPlus 4 Pics Edition. "In addition to giving users what they really want - free picture messaging - textPlus 4's unique new features like Community photos and Face Text are giving people an even more engaging environment for socializing on their iPhones and iPods- and the response has been simply overwhelming."
textPlus 4's unique picture capabilities turn iDevice text exchanges into powerful photographic conversations. Here's how:

Picture Communities: It's show and tell for texting -- a group of users texting in one Community chatroom can easily send and receive pictures to illustrate their live discussions.
"Face Text:" Eye-roll, giggle, growl or grimace. Texters get emotive by using iPhone 4 and iPod touch's front-facing camera to snap and post their own real-time facial expressions; make a face, click the button, 3, 2, 1 - it posts instantly into the conversation flow. It's like texting from a photo booth.
Real picture messaging: The #1 most-requested feature from textPlus users, picture messaging lets users send, receive and save photos in one-to-one, private, community and even app-to-SMS conversations - all for free.
Since its launch in June 2009, textPlus is one of the most popular text messaging applications available, with a network of 23 million people, and over 3.5 billion messages sent. Available on all iDevices and Android phones, it has been downloaded 8.5 million times.
textPlus 4 Pics Edition can be downloaded here.
About textPlus and textPlus 4 Pics Edition
textPlus brings free, ad-supported real, group and Community texting to the iPad, iPhone, iPod touch and Android phones through both its mobile application and permanent short code, 60611. For iDevices, textPlus 4 Pics Edition adds Face Text and picture sharing technology to enhance social interaction and enjoyment in the app. Both apps are carrier and Mobile Marketing Association (MMA) compliant and enable seamless interaction between app users and their friends using regular text messaging (SMS).
About GOGII
GOGII (go-jee) is a mobile communications technology company and creator of the textPlus app. GOGII is a U.S.-based startup backed by venture capital firms Kleiner Perkins Caufield & Byers and Matrix Partners. GOGII was founded in 2007 by the three founders of JAMDAT Mobile, the leading mobile entertainment publisher that was acquired by Electronic Arts in 2006.
For more information, please visit http://www.textPlus.com.
# # #