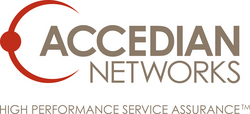 Montreal, Quebec (PRWEB) September 13, 2010
Accedian Networks™— the industry-leading provider of High Performance Service Assurance™ solutions for Carrier Ethernet and IP networks—announces that it has formed a strategic partnership with Cyan and has joined the CyAlliance Partnership program. Accedian will work in collaboration with Cyan to integrate its carrier-grade High Performance Service Assurance Platform™ with Cyan's innovative, cost-effective Z-Series multi-layer aggregation and transport platforms. The integration of the Companies' complementary technologies will enable service providers to deliver carrier-grade Ethernet and IP services under fully-assured, end-to-end Service Level Agreements (SLAs), while leveraging the OPEX and CAPEX efficiencies, services, and scalability they require in today's wireless backhaul applications.
The CyAlliance is a multi-vendor partnership program that provides a framework for Cyan and its strategic partners to verify end-to-end interoperability of best-of-breed solutions and to collaborate on the implementation of emerging standards and technology innovation. Accedian's contribution to the CyAlliance program is high performance service assurance for Carrier Ethernet services that complement Cyan's Ethernet optical transport capabilities. The combined solution will reduce service provider capital and operational expenses in a variety of applications including mobile backhaul and business Ethernet service delivery.
"Forming a partnership with Accedian was a strategic step in the evolution of the CyAlliance program in light of our highly synergetic product lines," said Tom Corker, vice president of product management and business development at Cyan. "With Accedian's award-winning high-performance service assurance and service creation EtherNID® and MetroNID® demarcation units at the network edge, and Cyan's aggregation and transport platforms across the metro and regional networks, we can collectively bring to market a complete, end-to-end high performance, high efficiency monitoring, reporting and interoperability solution across multi-vendor networks."
"We're excited to join the CyAlliance program," said John Eberhart, vice president of sales, North America, at Accedian Networks. "Cyan's optical networking enables the convergence and scaling of TDM, wavelength and packet services within networks, and the addition of the Accedian's high performance service assurance increases the quality and reliability of the services delivered over their optical platform. We look forward to working with Cyan to provide best-in-class Ethernet and IP service assurance solutions."
About Cyan
Founded in 2006, Cyan is an industry-leading, global provider of packet-optical transport solutions with advanced multi-layer network planning and management systems. Today, Cyan has dozens of network deployments across North America, and Europe. Customers range from multi-million line local access service providers, to regional transport, business Ethernet, wireless backhaul, data center and cable MSO service providers. Cyan enables service providers to scale, extend and simplify conventional and packet-based networks for more profitable service offerings. Cyan is a Petaluma, California-based team of industry veterans with a track record of successful innovation in communications networks around the world. For additional information, please visit http://www.cyanoptics.com or follow Cyan on Twitter at http://twitter.com/CyanNews.
About Accedian Networks
Founded in 2004, Accedian Networks™ is an industry-leading, global provider of High Performance Service Assurance ™ solutions for Carrier Ethernet and IP networks. Today, Accedian Networks is recognized world-wide for its level of expertise at engineering real-world service creation and high-speed, high-performance service assurance solutions for business Ethernet, Ethernet mobile backhaul, wholesale access, and carrier to carrier exchange services. The Company's flagship products include the high-performance, hardware-based EtherNID® and MetroNID® demarcations units, and the MetroNODE 10GE™ aggregation node. Combined, these solutions enable service providers to deliver end-to-end, standards-based Operations, Administration and Maintenance (OAM)—required to meet demanding service level agreements (SLAs)—over converged multi-technology and multi-provider networks. Accedian's products and solutions are deployed by a global customer base that includes telecommunications providers, cable MSOs and mobile operators offering carrier-grade, packet-based applications. Accedian Networks is a privately held company headquartered in Montreal, Canada, with regional offices in the U.S., Europe and Asia. For additional information, please visit: http://www.accedian.com, or call 1-866-685-8181 or +1 (514) 331-6181.
###