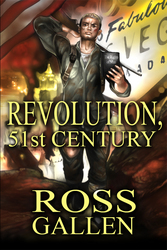 Henderson, NV (Vocus) September 11, 2010
Revolution, 51st Century, a new novel by Ross Gallen, has been released by RoseDog Books.
In the early part of the twenty-first century, in the waning days of the Swanson administration, there was a cataclysmic nuclear attack by Muslim extremists. Three hundred million Americans perished. Mass sterility and gene defects were the seminal events of the war.
The administration turned to genetic ladder engineering to ensure survival. Children deemed unfit were harvested for their organs and summarily dispatched. Those who were fierce and obedient were sent to the Legion to protect the state and preserve internal order.
Gaul, the consummate warrior of the Legion, was born into this world. This is his story as he fights to gain what twenty-first century Americans take for granted. It is a quest for justice in a cruel world that has no respect for the human condition.
Author Ross Gallen was born in New York and raised in California. Growing up in the turbulent era when the Soviet Union threatened the free world with nuclear destruction, he was acutely aware of the lack of civil liberties in the Soviet hegemony. This ingrained a lifelong belief that the Constitution was all that protected ordinary Americans from arbitrary government action. His writing career began as an Op. Ed. writer for his high school newspaper. Graduating from the University of Redlands, he simultaneous received a Bachelor of Science degree in Geology and a Bachelor of Arts in Sociology. After a short stint in graduate school at the University of California, he proceeded to Cal Western Law School, where he earned his Juris Doctor degree.
Ross is a member of the State Bar of California and the State Bar of Texas. Employed as a Deputy District Attorney, he argued the landmark case of In re Kay before the California Supreme Court. He honed his skills as a trial lawyer by working as a deputy Public Defender representing clients charged with capital murder and serious felony crimes, and he went on to become a managing partner in a civil litigation firm. He has been a Judge Pro Tem of the Orange County Superior Court and is recognized as a preeminent lawyer in the Martindale-Hubbell Bar Register of Preeminent Lawyers in America. Ross currently devotes his time to writing fiction and practicing law. Other novels include The Hour before Dawn, scheduled for release in 2011, by the Charles River Press. Both of his sons are airline pilots, and his daughter is a speech pathologist. He and wife Lynn make their home in Henderson, Nevada.
Revolution, 51st Century is a 134-page paperback with a retail price of $14.99. The ISBN is 978-1-4349-9995-5. It was published by RoseDog Books of Pittsburgh, Pennsylvania. For more information or to request a review copy, please visit our virtual pressroom at http://www.rosedog.com/pressroom or our online bookstore at http://www.rosedogbookstore.com.
###