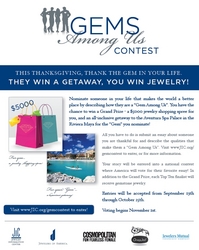 We know that no bride does it alone and we love giving our brides the chance to thank their nearest and dearest in this spectacular fashion.
Chicago, IL (PRWEB) September 14, 2010
OneWed.com, the ultimate resource for online wedding planning and the home of WeddingPreParty.com, is thrilled to announce their sponsorship of Jewelry Information Center's Gems Among Us Contest. The nationwide contest, running September 13th through October 25th, offers engaged couples the chance to nominate loved ones who make their lives special.
The grand prize winner will receive a $5,000 jewelry shopping spree for herself, and the nominated "Gem" will receive an all-inclusive getaway to the Aventura Spa Palace in the Riviera Maya. The top ten nominees and nominators will also win custom gemstone jewelry.
To enter:

Couples can visit OneWed's special entry page at http://www.onewed.com/giveaway/gems-among-us-contest where they can start by creating their own Wedding Pre-Party, OneWed's cutting edge suite of wedding planning tools and social network dedicated to all things wedding
Upon completion of their Wedding Pre-Party page, couples will be directed to Jewelry Information Center's website, jic.org, to submit their essay
On October 29th, ten couples will be selected as finalists, based on the originality, inspiration and creativity of their essay
From November 1 through November 22, 2010, the general public can cast their votes for the grand prize winner. The contest will conclude with the announcement of the winning individuals on November 23rd, 2010.
"This Thanksgiving, we are excited to reward those very special Gems Among Us," said Jennifer Napier, VP of Sales and Marketing for OneWed.com. "At OneWed, we know that no bride does it alone and we love giving our brides the chance to thank their nearest and dearest in this spectacular fashion."
Contest sponsors include Jewelry Information Center, Jewelers of America, Jewelers Mutual, Cosmopolitan Magazine and OneWed.
About OneWed:
OneWed is the ultimate online source for the truth in wedding planning, providing couples with a wealth of tips, advice, and creative suggestions to help personalize their wedding experience. WeddingPreParty.com is a virtual way for couples to start the celebration early and keep in contact with guests through a social wedding planning network and suite of wedding planning tools. OneWed boasts the largest searchable directory of local wedding professionals with over 235,000 wedding vendors nationwide. Additionally, the site features OneWed's Savvy Scoop Wedding Blog, online wedding checklist, free wedding websites and ideas for everything from engagement rings to wedding dresses to honeymoon planning. OneWed can be found online at OneWed.com, facebook.com/Wedding.Planning, and twitter.com/OneWed.
# # #