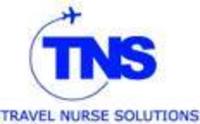 Greg brings with him a wealth of experience in nurse staffing, and an exemplary track record of leadership and success in growing medical staffing businesses.
Alpharetta, GA (Vocus) September 13, 2010
Greg Sanchez, a staffing professional with more than 20 years of experience in healthcare operations and recruiting, has been named President of Birmingham, Alabama-based Travel Nurse Solutions (TNS), which supplies temporary nurses to a variety of healthcare providers.
"Greg brings with him a wealth of experience in nurse staffing, and an exemplary track record of leadership and success in growing medical staffing businesses," said Scott L'Heureux, who is President of Jackson Therapy Partners (JTP), and who served as Interim President for Travel Nurse Solutions. Both organizations are part of the Atlanta-based Jackson Healthcare family of companies.
Sanchez has served as a regional vice president for a major medical staffing company, and as director of healthcare operations and physician recruiting for a division of the U.S. Army. L'Heureux will continue to serve as Group President of TNS and JTP, while Sanchez will take over day-to-day operations in his role at TNS.
According to L'Heureux, Sanchez has demonstrated a commitment to personal and organizational excellence through ongoing training and development. His assertive in-the-trenches leadership style and commitment to customer service make him an excellent choice for this position.
"We are pleased to welcome Greg, and we're confident his accomplishments will continue at Travel Nurse Solutions, as he leads TNS to be the market leading nurse staffing solutions company" L'Heureux said.
For more information contact Keith Jennings at 678.690.7942 or kjennings(at)jacksonhealthcare(dot)com.
About Jackson Healthcare: Founded by the healthcare innovator Richard Jackson, Jackson Healthcare serves more than two million patients in nearly one thousand hospitals each year. The Jackson family of companies provides physician and clinician staffing, anesthesia management, hospital management and healthcare information technology solutions proven to improve clinical and financial outcomes, as well as increase operational efficiency. Jackson Healthcare has earned national media coverage for its physician polls and champions local and international charitable work. In addition, Jackson has been recognized as one of the largest and fastest growing staffing companies in the country by the Inc. Magazine, Atlanta Business Chronicle, Georgia Trend and Staffing Industry Analysts. For more information about Jackson and its companies, visit JacksonHealthcare.com.
About Travel Nurse Solutions: Travel Nurse Solutions (TNS), a member of Jackson Healthcare, specializes in the temporary placement of registered nurses in a variety of healthcare settings nationwide. Headquartered in Birmingham, Alabama, Travel Nurse Solutions is dedicated to bringing new technology and exceptional customer service to the forefront of the travel nurse staffing industry. With a commitment to quality, integrity, and innovation, TNS has grown to become one of the leading travel nurse agencies in the United States. For more information about TNS, visit T ravelNurseSolutions.com.
###