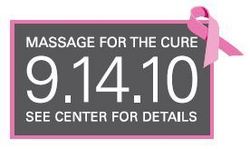 Massage Envy is extremely proud to support Susan G. Komen for the Cure and to continue the partnership that we've developed to raise funds for breast cancer efforts in our community
Scottsdale, AZ (PRWEB) September 13, 2010
On Tuesday, September 14, 2010, Massage Envy will team up with Susan G. Komen for the Cure® to help win the fight against breast cancer by hosting Massage for the Cure. During this one-day event, Phoenix Massage Envy Centers will offer $49 one-hour massage therapy sessions, with $15 from each massage being donated directly to the Phoenix Affiliate of Susan G. Komen for the Cure. Additional donations will also be accepted and all proceeds collected will go directly into the local community. The event is open to the public and advanced reservations are recommended. However, walk-ins are welcome.
"Massage Envy is extremely proud to support Susan G. Komen for the Cure and to continue the partnership that we've developed to raise funds for breast cancer efforts in our community," said Steven Cook, regional developer for Arizona and Las Vegas. "We have had a positive response from our members across the nation and we also encourage and welcome non-members to join us for Massage for the Cure."
Since the first Massage for the Cure event in 2005, Massage Envy has raised more than $1.4 million for Susan G. Komen for the Cure. This year, Massage Envy's goal is to raise $500,000, with 630 Massage Envy centers in 42 states participating. Massage Envy is a leading provider of Swedish Massage, Deep Tissue Massage and other customized types of massage therapy.
In 2009 alone, nearly 200,000 women and men in the United States were diagnosed with breast cancer, and more than 40,000 succumbed to the disease. A woman is diagnosed with breast cancer every three minutes and the disease claims another life every 13 minutes.
About Massage for the Cure
Massage for the Cure is an annual, one-day massage therapy event hosted by Massage Envy® and benefiting Susan G. Komen for the Cure®, a global leader in the movement to end breast cancer. Since the massage therapy event's inception in 2005, Massage Envy has raised more than $1.4 million for Susan G. Komen for the Cure® with 100 percent of the proceeds being used for education, screening and treatment programs in the community. Now in its sixth year, Massage for the Cure will be held on September 14, 2010 at 630 Massage Envy centers across the United States. To book your appointment or for more information, please visit http://www.MassageEnvy.com.
# # #