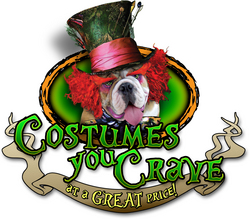 "We've rebranded our temporary Halloween stores to Wicked Wally's," said Walter Erwin, President of Wally's Party Factory. "We are dedicated to our communities all year and are passionate about the season," Erwin continued. "We go above and beyond to offe
Ennis, TX (PRWEB) September 12, 2010
Wally's Party Factory and Card & Party Factory are opening several temporary locations specializing in Halloween merchandise. Wicked Wally's will open the week of September 12, seven days a week, through October 31 in five areas throughout Texas and Oklahoma. Wally's Party Factory and Card & Party Factory have a presence in various communities 365 days a year. Wicked Wally's allows for a larger venue to showcase even more unique and seasonal products.
"We've rebranded our temporary Halloween stores to Wicked Wally's," said Walter Erwin, President of Wally's Party Factory. "We are dedicated to our communities all year and are passionate about the season," Erwin continued. "We go above and beyond to offer the latest trends in costumes, accessories and decorations to make this Halloween unforgettable for your friends and family."
Wally's Party Factory, Card & Party Factory and Wicked Wally's are offering several giveaways during the month of October. Such as, a"Text-2-Win" campaign beginning October 6 for a chance to win one of 20 costumes valued around $39.99. In addition, purchase a costume at any store location and receive a free 12 pack of glow in the dark silly bands while supplies last until October 16. Check your local store for events throughout the entire month.
Wicked Wally's is the premiere retailer for festive and fun table settings, indoor and outdoor décor and this year's hottest costume selections for all ages with guaranteed low prices. "We will not be undersold," said Erwin. "Customers can bring in any local retail competitors print ad and we promise to beat their price by 10%."
Wicked Wally's locations are as follows:
College Station (979)694-4690
1210 Harvey Road
Kerrville (803)257-0508
831 Junction Hwy.
Tyler (903)593-5859
2209 South Broadway
Baytown (281)593-5859
1772 San Jacinto Mall
Lawton (580)581-1014
3801 Cache Road, Suite 36S
Wally's Party Factory has a company-wide commitment of appreciation for those that serve our community and nation by offering a 10% discount to educators and members of the armed forces.
About Wally's Party Factory
Wally's Party Factory (http://www.wallyspartyfactory.com) based in Ennis, Texas, is the largest privately-held chain of independent party supply stores in the United States. Wally's, which also operates in some locations as Card & Party Factory, began over two decades ago and has grown steadily into one of the nation's best party-supply and Halloween costume merchants.
The company's 31 party stores are located in Texas and Oklahoma. In addition to Wicked Wally's locations, the other stores are in: Abilene, Amarillo, Baytown, Brownwood, Cleburne, College Station, Conroe, Corsicana, Ennis, Ft. Worth (2), Huntsville, Lake Jackson, Lawton, Lufkin, Longview, Midland, Nacogdoches, Palestine, Paris, Rockwall, San Angelo, San Marcos, Sherman, Temple, Texarkana, Tyler, Victoria, Waco, Waxahachie, Wichita Falls and Lawton, Oklahoma.
###