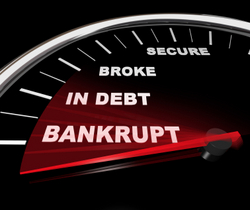 When people hear the word, bankruptcy they often think of it as a dirty word. The fact of the matter is that this is a viable debt resolution program that is underutilized.
Los Angeles, CA (Vocus) September 13, 2010
Bankruptcy filings were down in August, yet the trend for 2010 remains much higher than 2009.
Across the nation the amount of filings this year stands at 9122 per million households. This is an equivalent of about 1 in every 110 households. The filings for 2010 are generally 7% higher than the previous year.
The highest filings occur in the Southwest and the Southeast. Morgan Drexen work with attorneys throughout the nation, who represent consumers who are financially stressed. Many attorneys agree that bankruptcy can be an option.
Pasquale Cossentino is a Florida resident who considered bankruptcy too much of a risk. Pasquale engaged with the Brookstone Law Firm with over $26,000 in debt. Relocating to Florida for work and the slow economy left Pasquale desperate for financial freedom.
This attorney based debt resolution program helped Pasquale reduce his debt dramatically. Pasquale speaks highly of the attorneys, "They did a great job for me. Right now I have zero credit card debt."
There are others who have trodden the path of bankruptcy and would not advise others to follow in their footsteps. Phillip Sindlinger a Nevada resident admits, "I learned very quickly that the system punishes bankruptcy." Phillip filed for bankruptcy in 2001 and says his credit has not yet returned to a good standing.
Phillip engaged with the Howard | Nassiri Law Firm after accruing almost $12,000 in debt. Bankruptcy a second time was not an option. Phillip says, "My wife sees bankruptcy as an option, I say, it's not an option if you're married to me." Phillip decided to use a debt resolution program to avoid again the scar that comes with filing bankruptcy.
Vincent Howard of the Howard | Nassiri Law Firm says bankruptcy can be an option. "When people hear the word, bankruptcy they often think of it as a dirty word. The fact of the matter is that this is a viable debt resolution program that is underutilized. Only 20% of the people who should be filing bankruptcy are doing so. Bankruptcy however is something that should be used as a last resort. A debtor should attempt to pay back their debt by themselves or by enrolling into a reputable debt resolution program, circumstances permitting. If that fails or is not possible, then bankruptcy should be an option the debtor should consider."
Media Contact-
Raychel Harvey-Jones
Office- 714 9231500
Cell- 714 328 0364
###