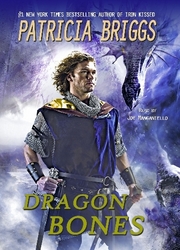 Joe Manganiello - "How is it playing all the characters in the same scene? "It's a bit schizophrenic, I guess. But you just throw yourself into it, you just jump into the pool, and it's a blast."
Greensboro, NC (PRWEB) September 14, 2010
Buzzy Multimedia is proud to announce the release of their unabridged audio book of "Dragon Bones," performed by Joe Manganiello from the novel by best-selling fantasy author Patricia Briggs.
DRAGON BONES AUDIO PRESS RELEASE
Written by Patricia Briggs
Narated by Joe Manganiello (True Blood's Alcide Herveaux)
The dark fantasy "Dragon Bones" is set in a world different from our own, though human nature remains just as complex, devious and dangerous there as it is here. Wardwick of Hurog has had to pretend foolishness throughout his young life to deter his father from killing him. Now an adult, Hurog must convince those around him of his true nature, not simply to claim the throne, but to save the Five Kingdoms from the evil magic that threatens to destroy them.
Acclaimed author Patricia Briggs has been fascinated with otherworldly creatures and imaginary lands since childhood, when she first began writing about these subjects. Briggs has created the Mercy Thompson and the Alpha & Omega series. Her novels have appeared on the New York Times best-seller list.
Actor Joe Manganiello's portrayal of Louisiana werewolf Alcide Herveaux in HBO's hit "True Blood" so impressed series creator Alan Ball that Manganiello has become a regular. Pittsburgh native Manganiello trained as an actor at Carnegie Mellon. On the big screen, he played Flash Thompson in the "Spider-Man" films and on television had recurring roles in "One Tree Hill" and "How I Met Your Mother," as well as an extensive stage career. Additionally, he is a writer and producer. "Dragon Bones" is Manganiello's first foray into audio book performance; he hopes to reprise the experience soon.
Total running time on the "Dragon Bones" audio book is 9.5 hours. It is available for pre-order Sept. 8; publication date is Nov. 15. For pre-orders or more information, go to buzzymultimedia.com or call 877-845-4534.
###