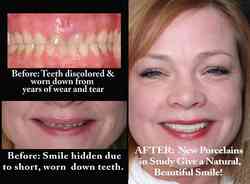 Participating dentists can have professional satisfaction for bettering cosmetic dental science and help more patients benefit from cosmetic dentistry as a result.
Miami, FL (PRWEB) September 13, 2010
Big Case Marketing, Dental Ideal Lab, and Smile-Vision Dental Laboratory announce a new cosmetic research study open for dentist participation in the US and internationally. The purpose of the cosmetic dental study is to determine the behavioral impact of pre-treatment cosmetic simulations on patient case acceptance rates, measure time efficiency of the "template technique" which improves esthetic reliability and speeds the delivery of cosmetic units, and to track 3 years of clinical data related to fracture, debonding, color stability, aesthetics, and fit for E-max (Ivoclar), Pressed Glass, and Porcelain to Zirconia restorations.
As a side effect of study participation, qualified cosmetic dentists can expect significant numbers of fee-for-service patients inquiring to their practice for cosmetic dental treatment. General Dentists and Prosthodontists who have completed advanced cosmetic continuums or who have cosmetic academy credentials in are eligible to apply for being a designated participating practice for the research study.
Participating dentists must also be members of at least one of the following: the American Academy of Cosmetic Dentistry, the American Academy of Esthetic Dentistry, the European Academy of Esthetic Dentistry, the International Academy of Dental Facial Esthetics, the Academy of Comprehensive Esthetics, or the International Federation of Esthetic Dentistry.
Qualified dentists accepted as research study sites will receive marketing ads and specific instructions on how to locate study participants interested in cosmetic dentistry in their geographic area. While participating dentists will offer treatment at a discount for patients who opt to participate in the study, cosmetic services are not free. The number of practices in a geographic area allowed to participate are also limited.
Dr. James McAnally, Miami Dentist and Director of the Cosmetic Research Study Program, states, "Gathering data related success factors with these newer porcelains, using a very innovative technique that increases aesthetic reliability and improves delivery speed of dentistry, and lastly measuring at least one key behavioral factor we know effects case acceptance rates makes this study the most unique of its kind in cosmetic dentistry. We're very pleased to be able to look at this on a global basis, to work with some of the best cosmetic clinicians in the world, and of course see far more patients world-wide benefit from cosmetic dentistry as a result." Dentists can use their local lab and any local lab can become certified in the template technique required under the study guidelines. Patients participating in the study must need 4 or more units of cosmetic dentistry. Dentists or labs wishing to apply as a participating site can go to http://www.CosmeticDentistryStudy.com or call 206-601-6754.
###