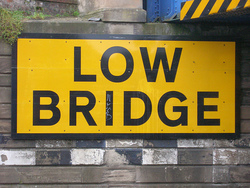 Onondaga Lake Parkway is a County road. It remains open to commercial traffic despite a history of accidents involving a bridge that some refer to as the truck can-opener. The injured should know that they only have 90 days to serve papers on the County.
Syracuse, NY (PRWEB) September 11, 2010
At 2:30 a.m. this morning, a double-decker bus heading from Philadelphia to Toronto, with stops in Syracuse, New York, and Buffalo, crashed into a railroad bridge located over Onondaga Lake Parkway (County Route 370), within the Town of Salina, in Syracuse, New York.
The crash caused the death of four passengers who, together with dozens of injured riders, have only 90 days to serve a Notice of Intention to Claim in order to preserve their right to seek compensation from Onondaga County, in the event that the municipality caused or contributed to the bus accident.
According to Syracuse bus accident lawyer, Anthony S. Bottar, Esq., this is not the first time that a bus or truck has made contact with the low-clearance railroad bridge that passes over the Parkway. While CR 370 has signs and lights warning motorists of the low-clearance bridge, accidents involving the bridge occur frequently. Syracuse roadway defect lawyer Michael A. Bottar, Esq., added that "given the number of accidents that occur at this location, we are concerned about whether the bridge signage is adequate and whether the County and others have taken appropriate steps to ensure that the roadway is safe for motorists, especially those from out of town."
The obvious parties responsible for the injuries are the driver of the truck, his employer and the owner of the bus. Bottar added, however, that the County may share some fault. "For example, the County has not closed the parkway to traffic other than passenger cars and trucks despite notice of low-clearance bridge accidents. Instead, it has allowed the roadway to remain open to all traffic with little warning to unwary drivers about the bridge hazard."
Many trucking and bus companies are aware of low-clearance bridges and plan travel routes around the Parkway to prevent contact with the bridge's support beams. Several websites mark low clearance bridges in New York State, including one managed by the American Independent Truckers Association. According to Megabus company executives, the driver was familiar with the route, but was off course at the time of the accident. Megabus is operated by Coach, USA.
Bottar Leone, PLLC, is a trial law firm based in Syracuse, New York. Since 1983, the Firm's legal team has limited its practice to representing the victims of negligence and malpractice throughout the State of New York, including claims involving complex bus, truck and roadway defect cases.
Email: info(at)bottarleone(dot)com
Bottar Leone, PLLC
1600 AXA Tower II
120 Madison Street
Syracuse, NY 13202
Wesbite: http://www.bottarleone.com
Blog: http://www.syracuseinjurylawyerblog.com
Blog: http://www.syracusemedicalmalpracticelawyerblog.com
###