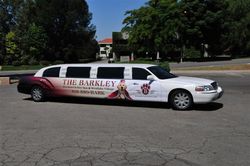 says General Manager and creator of The Barkley concept, Howard Perlmuter.
Westlake Village, CA (PRWEB) September 13, 2010
After years of international research and planning, The Barkley Pet Hotel & Day Spa and the new Westlake Village Animal Hospital have announced they'll be open for business on October 25th, 2010! The long awaited grand opening has been in 'paw'pular demand since the media started reporting on it over two years ago. That's because The Barkley is the only upscale boarding, grooming and day camp facility of its kind for dogs, cats, birds & exotics in Los Angeles. With overnight accommodations in uber-luxurious suites along Rodeo Drive and Hollywoof Boulevard, and full-service day spa services (offering spa baths, body massages, mud-masks and "pawdicures"), every inch of The Barkley's unique and proprietary designs were micromanaged by pet care consultants, architects, psychologists, behaviorists, and contractors worldwide.
"There is really nothing like this in the entire world! We aren't even open yet and our phones are already ringing off the hook!"" says General Manager and creator of The Barkley concept, Howard Perlmuter. "Since opening the first location in Cleveland, Ohio, we've had our eye on launching another in Southern California. Being offered an opportunity to fill the niche along with the best veterinary practice in California was a natural fit!"
Described as a pet's paradise for relaxation, socialization, exercise or just sheer enjoyment, The Barkley is undoubtedly a "Five-Paw Property." The custom-designed facility offers overnight accommodations, grooming and spa services, day camp, obedience training, and even A-List trans'paw'tation via pick-up and delivery service in The Barkley's VIP PET limousine! With an extensive guest service menu featuring bedtime tuck-in service, tummy rubs, and Skype® sessions, The Barkley is sure to be the "bark" of the canine community. Not to leave other species out in the cold; felines, birds and exotics are also welcome.
Kitty City, designed to be the "cats meow", provides each feline guest with a private tri-level condo (living area, bedroom and private bathroom) with amazing views of a salt-water aquarium, bird feeders and flat-screen television entertainment. Regardless of the time and day, pet owners can always share in their pet's excitement via webcam technology.
Though The Barkley prides itself on its unique amenities, it is the top quality care from its professional staff which really sets them apart from the competition. All Barkley Pet Hotel employees are animal lovers who are certified Level 1 Pet Care Technicians by the Pet Care Services Association. The expansive pet care campus is staffed 24-hours a day, every day for the maximum comfort and safety of each pet guest. Add the services and expertise of the onsite, award-winning Westlake Village Animal Hospital and clients achieve a 100% peace-of-mind that their best friends are in the best possible hands!
The Barkley has been dubbed the "Ritz-Carlton" for pets but guests don't need to be from 'high-society' to afford a reservation. The Barkley is designed to provide both daytime and overnight care in a safe and comfortable environment while offering a wide variety of accommodations at affordable prices. Leisure Suites start at just $45 per night with themed suites running $65 and up - for 24-hour care. At these prices, any pet can be a VIP at The Barkley Pet Hotel & Day Spa!
The 32,000 square foot pet care campus will be offering "sneak-preview" tours to the public from 8 a.m. – 5 p.m. on Saturday, October 23rd and Sunday, October 24th. Entertainment, auctions, raffles, food and fun will be provided with all proceeds from the event benefiting local pet charities. Advance tickets are free by registering at westlakepet.com. Everyone is invited however, due to the facility's strict vaccination standards, pets will not be allowed inside the controlled environment.
To learn more about The Barkley, come join us for fun, food and entertainment, including a silent auction and raffle prizes during our pre-grand opening festivities. All proceeds will support local animal charities. Register your tour spot today at westlakepet.com
Schedule of Grand Opening Events
Saturday, October 23rd – Public Sneak Preview Day 8 am – 5 pm
Sunday, October 24th –Public Sneak Preview Day 8 am- 5 pm
The Barkley is housed alongside the brand new, technologically-advanced Westlake Village Animal Hospital. Providing 24-hour (on-call), 7 day a week, emergency veterinary service, Dr. Daniel Slaton and Dr. Steven Rosenstein provide the highest level of veterinary care. For more information on vet care, call 805-497-4900 or visit: http://www.westlakevet.com.
Now taking reservations, The Barkley Pet Hotel & Day Spa is located across from The Four Seasons Hotel at 31166 Via Colinas in Westlake Village, California. For more information call 818-889-BARK (2275) or go online at http://www.thebarkleypethotel.com.
###