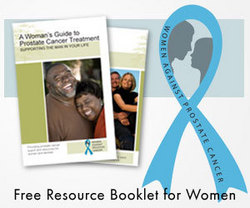 Washington, DC (PRWEB) September 13, 2010
Women Against Prostate Cancer today announced the availability of A Woman's Guide to Prostate Cancer Treatment: Supporting the Man in Your Life. The new, free online, easy-to-read booklet provides information on the available prostate cancer treatment options, targeted for caregivers so they can assist their partner in making the often difficult decisions involved in choosing a treatment path.
About one in six American men will receive a prostate cancer diagnosis, and it ranks as the second leading cause of cancer deaths among men. With the number of available treatments and the added stress of a cancer diagnosis, it can be difficult to navigate the information out there and seek second or third opinions, which are paramount in making the right personal medical decisions.
"As a recent study in the journal Cancer found, short-term and long-term costs of prostate cancer vary greatly based on which treatment a man initially receives. In fact a variety of factors, including cure rate, quality of life, and cost, play a role in determining which treatment is appropriate for a given man," explains Isaac Kim, MD, PhD, executive director, Dean and Betty Gallo Prostate Cancer Center, The Cancer Institute of New Jersey; associate professor of cell and developmental biology, UMDNJ Graduate School of Biomedical Sciences. "A prostate cancer diagnosis can be overwhelming, but the key for the male, and their spouse or caregiver, is to educate themselves on available treatment options based on the diagnosis from the onset, and have an open and honest dialogue with the physician. Only then can the patient make the most informed decision regarding treatment."
In addition to procedures and therapies used to treat prostate cancer, the booklet explains testing procedures, describes stages and results, as well as additional resources. As Betty Gallo can attest, a prostate cancer diagnosis affects the entire family, and educating caregivers allows them to best support their partners as they embark on the cancer journey as a unit.
"I know first-hand what prostate cancer does to a family, and it's not only a battle the man goes through," states Betty Gallo, prostate cancer advocate and wife of the late Congressman Dean A. Gallo, who died of prostate cancer in 1994. "We, women, often make the big decisions in our households and that includes the health of our families. I urge every woman to get the facts on prostate cancer as soon as their spouse or loved one is diagnosed – from what the diagnosis means, what are all of the treatment options, and how to manage post-treatment life." Betty also helped establish The Dean and Betty Gallo Prostate Cancer Center and is co-founder of Women Against Prostate Cancer.
A Woman's Guide to Prostate Cancer Treatment: Supporting the Man in Your Life is available for free download at http://www.WAPCTreatmentGuide.org. This publication was made possible by an unrestricted educational grant from Aureon Biosciences.
About Women Against Prostate Cancer
Women Against Prostate Cancer (WAPC) is a national organization working to unite the voices and provide support for the millions of women affected by prostate cancer and their families. WAPC advocates prostate cancer education, public awareness, screenings, legislation and treatment options. For more information, please visit Web / Facebook / Twitter.
###