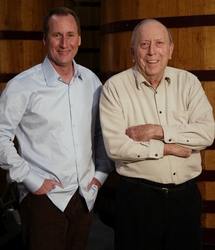 $20k for Family Reunion: New Contest from Concannon Vineyard Offers Chance to Win a Once-in-a-Lifetime Family Celebration
Livermore, CA (Vocus) September 20, 2010
Who wouldn't want $20,000 to put on a family reunion? Concannon Vineyard is offering that prize to the winner of its "Family First" sweepstakes. "We have always put family first in our four generations of winemaking in California," John Concannon, fourth generation vintner said, "and this program is an opportunity to have all of us think of the vital importance of family to our own lives." The "Family First" sweepstakes can be entered starting September 1st, 2010, at http://www.ConcannonVineyard.com or by mail as detailed below.
Founded by James Concannon more than 125 years ago, the pioneering California winery has many accomplishments: the first and predominant producer of America's first varietally labeled Petite Sirah, the first woman winemaker and the introduction of Cabernet Sauvignon clones 7, 8 and 11, the basis of Napa's finest wines. The Livermore Valley winery is a destination stop in California's wine country with completion of its $30 million revitalization program that has enhanced quality in the vineyards, wines and across operations.
Applicants for the "Family First" contest can participate on line at http://www.ConcannonVineyard.com or by mail. Forms are available at Concannon cases and displays at wine shops and grocery stores. The contest is void in California and other states where prohibited or restricted by law; Tennessee residents must enter by mail. The complete official rules are also available by mail at "Concannon Vineyard Family First Official Rules", 159 West 25th St. 2nd Floor, New York, NY l000l.
About Concannon Vineyard
A founding family of California wine, Concannon Vineyard is the oldest continuously operating winery in the state, with four generations of family leadership. With America's first varietally labeled Petite Sirah in 1964, Concannon Vineyard sparked a consumer love affair with this varietal. As Concannon enters its 127th harvest, the pioneering winery continues to lead the California wine industry in preserving an agricultural way of life by protecting vineyards from urban development.
Media Contact:
Patricia Schneider
Concannon Vineyard
psa.patricia(at)gmail(dot)com
(415) 717-7595
###