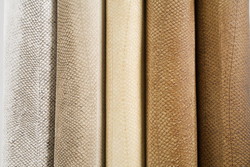 "Nanai salmon leather offers uniquely beautiful and earth-conscious choice to the world of luxury design and fashion."
Los Angeles, CA (PRWEB) September 13, 2010
Salmo Leather GMBH – The world of luxury fashion, design, and textiles is about to change in the United States. Today, an exciting new textile is introduced to the market – Nanai salmon leather. Nanai has already caught the interest of many European designers and is included in current collections by Michael Michalsky, El Caballo, and Christian Schulte. German luxury car maker, BMW has integrated Nanai into the interior design elements of its luxury special edition BMW. Nanai is also increasingly being used in the world of yacht interior design.
Nanai is ethical, earth-conscious and elegance. With an appearance quite similar to snakeskin, Nanai is made from organically farmed salmon skin. Yet, in contrast to leathers from endangered species, one can enjoy it in many forms without a guilty conscience.
Nanai leather is manufactured in Germany, in accordance with the principles of ecological sustainability. Made from salmon skin, Nanai's tanning process is100% chrome-free. The material is produced in harmony with man and nature, following a tradition that has been part of the culture of the Eastern Siberian Nanai people for thousands of years.
This unique leather is made from the skin of animals raised on certified organic salmon farms in Ireland, in compliance with animal welfare standards. As the skins form a by-product of the salmon industry, the animals are not specifically bred or killed for their skin. The vegetable tanning process preserves the skin's original pigmentation and structure.
This leather has a truly new feel, which emerges from not just the sensory perception it imparts, but also from the awareness that one can feel good about wearing this hypo-allergenic and non-toxic material directly on one's skin.
Organic raw skins, processed through Nanai's proprietary and ecologically sustainable tanning methods yield unsurpassed quality in leather which offers long lasting superior comfort and low abrasion. The leather is light, yet tear resistant. It is thin, yet robust. It's versatile and ideal for a broad range of products and applications. These include luxury accessories, jewelry, exquisite pieces of furniture, and decorative wall covering for offices, homes, yachts, cars, and airplanes.
Nanai has gone beyond raising the standard for eco-friendly leather. Nanai has redefined it.
Distributors of fine textiles interested in Nanai may contact scoles(at)qewsmedia(dot)com.
Designers seeking to integrate the beauty and integrity of Nanai into their collections may contact tbrown(at)qewsmedia(dot)com.
About Nanai:
Manufactured by Germany-based Salmo Leather GMBH, Nanai is the elegant, eco and animal friendly choice for designers seeking a luxury leather textile. Salmo Leather is represented by Qews Media Inc. in the United States. Interested distributors and designers may contact Sabah Coles of Qews Media, Inc. at (310) 873 8946 or info(at)qewsmedia(dot)com. For more information please visit http://www.nanai.com/en.
###