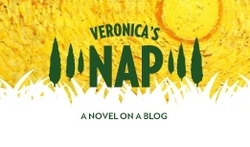 I'm fascinated by how social media has transformed the way stories from news to fiction reach the public, and by the opportunities this suggests. Increasingly, all writers must be entrepreneurs.
Natick, MA (PRWEB) September 13, 2010
The once-sharp boundaries between books, online publishing and social media became fuzzier today when author Sharon Bially launched her debut novel, Veronica's Nap, on a WordPress-powered blog.
Bially will serialize the novel a few pages at a time at http://www.veronicas-nap.com while blogging on the same site in a format designed to spark book club-style conversation. This conversation will focus on the candid issues related to motherhood and marriage the book looks at and its eyebrow-raising characters. It will also address the inspiration behind the novel, the background to this unusual initiative, and much more.
"I'm fascinated by how social media has transformed the way stories from news to fiction reach – and are endorsed by – the public. For authors like myself who want above all to share their stories, blog technology offers cost-effective opportunities to publish, build an audience and hold ongoing conversations with readers. It offers all writers the potential to generate a revenue stream from their work. Increasingly, writers must also be entrepreneurs," Sharon Bially said.
In the novel Veronica's Nap, a young mother and aspiring artist living in the south of France gets stuck in the habit of procrastinating and indulging in naps while a nanny watches her two-year-old twins. Set amid rising anti-Semitic sentiment in France at the onset of the Iraq war and featuring a cast of boisterous, Sephardic characters, the book takes readers along for the journey as Veronica tries to break out of the dangerous yet seductive rut she's slipped into.
"I'm eager to share and discuss this story because its conflicts are extremely close to many young mothers' hearts," Bially added.
About Sharon Bially
Sharon Bially worked as an international economic policy specialist for a decade before becoming a publicist and a writer. She received her bachelors' degree from Tufts University and her master's from Columbia University's School of International & Public Affairs. Presently, she's vice president at the PR and marketing firm Farrell Kramer Communications and guest contributor to the award-winning blog, Writer Unboxed. A resident of the Boston area, she lived in France for twelve years.
Contact:
Sharon Bially
508-655-2676
sharon(at)connaissancemedia(dot)com
###