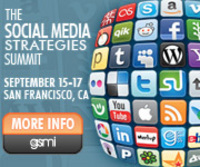 San Francisco, CA (PRWEB) September 14, 2010
The 2010 GSMI Social Media Strategies Summit focuses on educating businesses on how to best use social media marketing, including Facebook, Twitter, Location Based and Mobile. Combining hands on workshops with speakers who are experts in the field sharing the best practices in practical formats, GSMI's Social Media Strategies Summit is one that can't be missed. This much anticipated conference takes place on September 15-17, at the Marines' Memorial Club & Hotel.
What:
Attendee's of this strategically crafted seminar will have the unique opportunity to learn, from the best, how to position their company in the social media arena. With one full day of hands on workshops, two conference days with the best case studies of 2010 and plenty of networking opportunities, GSMI's Social Media Summit will surely be the social media conference of the year.
Unlike traditional conferences, that tend to pitch rather than educate, Social Media Strategies 2010 focuses on top-notch case studies from brands like, Cisco Systems, American Marketing Association, Nascar and much more. The goal is to help brands better understand and use social media as it relates to their business, market and consumers.
Workshops will provide one-of-a-kind opportunities to begin crafting attendee's brands 2011 social media campaigns.
When:
September 15, 2010: Workshops
September 16-17, 2010: Conference
Where:
Marines' Memorial Club & Hotel
608 Sutter Street, San Francisco, CA 94102
Who:
Chief Executive Officers, Chief Marketing Officers, Chief Branding Officers, VPs, Directors and Managers of: Marketing, Branding, Business Strategy, Customer Relations, Social Media, Media Sales, Public Relations, Online Community Managers, Social Media Assistants, Social Media Strategists, Business Development, World of Mouth Gurus, Community Marketers.
How:
Detailed information about workshops and conference, including package details, prices and keynote speakers can be found at: http://socialmediastrategiessummit.com/
About GSMI:
GSMI is dedicated to creating rich environments for learning, networking and ensuring their attendee's have great experiences. GSMI hosts dozens of conferences, around the world, each year. They are leaders in their industry and strive to always provide the best, most relevant, speakers, quality workshops and the right environment to both network and learn.
###