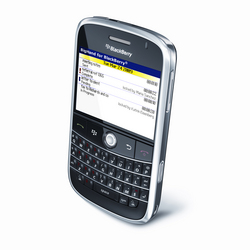 Brodies has a policy of implementing best-of-breed technology and in my view BigHand looked to be the most robust and innovative system on the market.
(PRWEB) September 14, 2010
BigHand, the leading voice productivity vendor in the professional services and public sector community, has today announced that law firm Brodies LLP, ranked within the Top 100 law firms in the UK and the largest in Scotland, has replaced its incumbent digital dictation workflow system with BigHand's enterprise software and BlackBerry® application. The move to BigHand has improved the flow of work across the firm and significantly reduced the volume of calls logged with the firm's IT team. The deployment of BigHand's BlackBerry app stands to deliver greater mobile productivity for lawyers.
Damien Behan, IT Director, Brodies comments:
"Brodies has a policy of implementing best-of-breed technology and in my view BigHand looked to be the most robust and innovative system on the market. BigHand was more closely aligned with our current and future requirements and also had the advantage of us being able to deal direct with the developer rather than a third party.
BigHand's BlackBerry application is intuitive and well designed and we are currently deploying this to 200 lawyers in order to improve their mobile productivity. In addition to enabling them to work more flexibly and only needing to carry one device - their Smartphone - it also removes the administrative headache of downloading audio files from mobile dictation devices.
Feedback from our staff is that they find BigHand to be intuitive and easy to use. Training was provided to secretarial coordinators, who administer the system, however lawyers and secretaries were able to start using BigHand with minimal desk-based guidance.
BigHand has enabled us to develop better workflows and working practices enabling different departments to pick up overflow work. Previously IT had to get involved in order to recall or reassign dictations, whereas lawyers can recall their own jobs now and coordinators can easily drag and drop dictations into secretaries' folders, giving them greater control of the flow of work.
We have implemented BigHand within a replicated virtual environment, which fits with our disaster recovery and data availability plans. The system is a lot less work for our IT team and has freed staff to carry out more value-adding activities; it just works and we rarely need to contact the BigHand technical support team. I don't hear very much about BigHand from my team, which is great – it's a sign that it is working as it should."
About BigHand
The BigHand Group supports over 120,000 professionals globally, across 1,250 organisations, and is based out of London, Chicago, Sydney and Toronto. BigHand is a Microsoft Gold Partner, BlackBerry ISV Partner, and was voted 'Dictation System of the Year' at the 7th Annual Law Technology News (LTN) Awards 2009. BigHand was also nominated at the British Legal Awards 2009 as 'Technology Provider of the Year'. Additionally, BigHand won 'Mobile Product of the Year' at the CNet Business Technology Awards 2008. Further info is available at http://www.bighand.com.
Contact:
Jo Beckwith, UK Marketing Manager, BigHand Ltd, jo.beckwith(at)bighand(dot)com
# # #