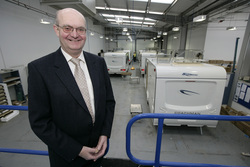 (PRWeb UK) September 14, 2010
Caravan Extravaganza Weekend proves a success for Coachman
Leading caravan manufacturer, Coachman, has enjoyed one of its most successful ever new product launches, selling over £1.2 m worth of new caravans in a single weekend at the Lawns Caravan Extravaganza in Cottingham: 4 – 5 September.
Coachman's Managing Director, Jim Hibbs, is thrilled by his company's success…
"To do well at the Lawns is critical, since this is the first time that we show our new models to the public. We were confident in our new designs and we'd received great feedback from our dealers, but you can never be absolutely sure that you've got it right until the customers actually say so!"
He continued…
"We took orders for over 60 new caravans in just two days which is excellent, beating our sales targets by almost 30%. Better still people seemed to like everything we had to offer, with orders placed right across the range. We even managed to sell two caravans we haven't actually built yet – off plan!"
For 2011, the Coachman VIP, Laser, and Pastiche ranges have been updated with new internal furnishings, including a new easy to set up bed system which has been produced for Coachman by Hull-based Kintech. Coachman has also invested heavily in its popular Amara range, completely revamping it both inside and out to make it more appealing to the growing number of UK families opting to take their holiday closer to home.
Coachman Caravans was established in 1986 and continues to operate as one of the leading caravan manufacturers in the industry. The company employs 141 members of staff and strives to produce caravans of the highest quality whilst providing superior after sales service. Their range includes the Amara, Pastiche, VIP and Laser.
# # #