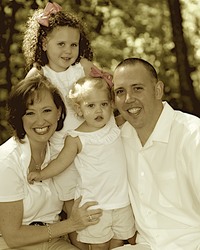 How To Survive (and perhaps thrive) On A Teacher's Salary.
Hoschton, GA (PRWEB) September 15, 2010
According to a recent 2010 report by PayScale.com, elementary education is listed as the second worst paying college degree. Danny Kofke, an elementary education major and special education teacher, shows others that one can do well financially even if they don't make a large salary in his book "How To Survive (and perhaps thrive) On A Teacher's Salary."
Danny has been a teacher for ten years and is proud to say that passion for the craft keeps him in the classroom but smart savings and basic understanding of financial principles have kept his wife (willingly!) at home with their children. Many find it hard to believe that one teacher can support a family of four, but "How to Survive" explains the steps necessary for others to follow suit and save for life's journeys.
Danny has been been featured in a number of publications including USA Weekend, Bankrate.com, PARADE, Instructor Magazine, CBS MoneyWatch.com, FoxBusiness.com, The Wall Street Journal, ABCNews.com, Yahoo Finance, Consumer's Digest, Bottom Line Personal, AOL.com, Your Family Today and The Huffington Post. He has also been interviewed on over 150 radio shows and on numerous television shows including The 700 Club, ABC News Now, FOX Business Channel's Varney & Company, HLN's The Clark Howard Show, Fox & Friends, CNN's Newsroom and MSNBC Live.
A lot of people think that figuring out financial matters and investing are difficult and are intimidated by it. Danny wants to show others if this 34 year-old school teacher can figure it out they can too.
To learn more about Danny please visit http://www.dannykofke.blogspot.com.
###